The Best Putters Under 100 Dollars-Improve Your Short Game
Last updated on January 11th, 2018 at 09:50 am
Putters are an essential part of any golf game. If you do not have one of the best putters that can help you master your short game, getting the ball to the green in one swift swing will not matter. Unless you can make a hole in one each time you make a swing, you need a putter to golf. In this guide, we are going to review the best putters under 100 dollars, but first, let's begin with a look at the different types of golf putters that are on the market and some of the considerations that you will want to make before you make a purchase. Check Out our Latest Post about How to Regrips putters?
Best Putters Under 100 & 150 Dollars Comparison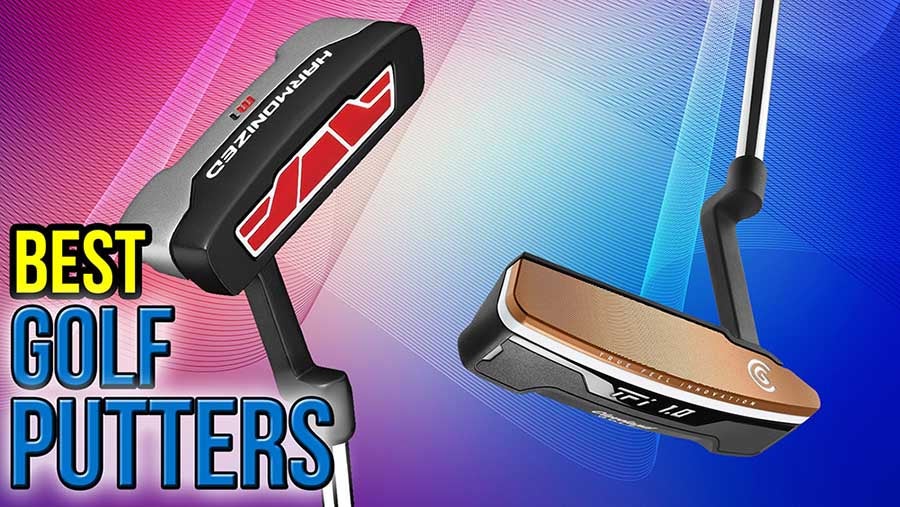 Types of Golf Putters
There are a few different types of putters that you can select from. The putter that works the best for the pros may not be the one that works the best for you, so before you make a purchase, consider which type of putter is ideal for you.
The mallet putter is one of the more heavy putters because it has the majority of its weight at the toe end of the face of the putter. This makes it simple to line up your putts, and even if you miss, the design is forgiving, which is why mallet putters are great for beginners.
Center Shafted Golf Putters
The center shaft putter is a bit more centered when it comes to weight. They are more difficult to use, so they are not all that common amongst beginners and intermediate level golfers.
Heel and Toe Weighted Putters
This is the style of putter that was well known during the roaring 60s. The weight of these putters is evenly distributed, which makes it easier to hit the ball on the sweet spot. This type of putter is widely used amongst beginners, especially because the sweet spot is marked on many putters, making it easy to line up your putt.
The golf blade putter often the style of putter chose by professionals because it has a heavier toe. It can take a bit to get used to this weight distribution, but if you have a high arcing putt, then this type of putter could benefit your game.
Our first putter, which is the Pinemeadow PGX, is one of the heavy putters on our list. Weighing in at about 13 ounces, the model has an additional 40 grams of weight when it is compared to many other putters, but that gives it more of a natural feel when you swing. The shaft of the putter is a full 34 inches long, and it is designed with a three-degree loft and a 90 degree lie so that you can get the best angle for your shot with the least amount of effort.
The white nano finish on this putter looks simply amazing. In fact, it is designed to stand out on the green so that you can easily adjust the positioning of your next shot, making it one of the best precision putters on the market.
Pros
This putter has a great balancing.
The coloration of the putter makes it very simple to align your shots.
The golf grip on this specific putter is very comfortable to use.
The cutouts on the head of this putter add a great bit of stability to each shot.
Cons
The finish is has been known to chip easily, so you will want to protect it if you can.
This putter is really designed for beginners, so if you have a bit of skill on the green, you may want to opt for a different model.
Odyssey is one of the top lines for golf putters on the market, and as a result, they make great putters that both professionals and novice golfers can feel comfortable using on the green. This putter is only 12.1 ounces, which makes it easier for smaller golfers to get a good swing, and it is designed with a shaft that can be purchased between 33 and 35 inches in length.
This model has a loft of three degrees and a lie of 70 degrees, which gives you a great angle for making the perfect putt. In addition, this putter has a white hot insert that is designed to help optimize the balance of the putter. In fact, the insert is shaped with lasers when it is placed in the putter to help ensure you get the best performance from this putter.
Pros
The putter is designed with a great grip so that you have a comfortable hold that does not cause fatigue during your game of golf.
Considering all of the features that you get with this putter, it is a pretty inexpensive purchase.
This is a putter for golfing during the winter time because it has a lightweight design.
Cons
The insert in the head of the putter is a bit soft, which may be a turn-off for some, especially if they are used to a firmer putter face.
The lightweight design is not for everyone.
Buying an expensive putter is not always something that fits your budget, so when you are looking for a good quality putter for under $100, this Wilson is a great option. The insert on the face looks great, and it is also made from microinjection polymer, so it will absorb a lot of the shock when your putter hits the ball.
Insofar as performance, the loft is three degrees, and the lie is 72, which makes it easy to putt your ball the way that you like, but it is not a professional putter by any means. In fact, the plumber-style hosel is actually designed to add offset to your swing, which is designed to help beginners have their hands ahead of the face of the putter before it makes contact with the ball.
Pros
The soft grip that is designed into this putter is designed to reduce the amount of wrist action that is required for a putt.
The hosel design on this model is great for your overall follow through.
This putter is an affordable option that can fit any budget.
Cons
This is a putter that is designed for beginners, so it will not have the features that a professional golfer needs in a putter.
The neck of this putter is not as stable as it could be, which limits the amount of force your swing can have.
Cleveland is a brand that is about 40 years old. This putter is designed with a raised alignment to help you align your target visually as you aim your shot. In fact, it has a design that easily allows for a two-stroke game because you have a great amount of control over the destination and the speed of the golf ball. In addition, the loft of this putter is three degrees, and the lie is 70 degrees, so you can easily control the putts that you make.
Insofar as the impact, it is quite soft when compared to some putters, but it is very stable, which adds to your overall accuracy. If you need assistance aligning your putt, there are two white stripes on the heel of the putter that are designed to help you line up your shot with relative ease.
Pros
This putter has a very soft grip that feels great in your hand.
Aligning your putt is very simple with this putter, especially with the raised alignment.
The copper face gives this putter a professional look.
Cons
This putter is a bit on the light side, which may be a turnoff for some experienced golfers.
When you make your shot, you will notice a hollow sound that can get annoying after a few rounds.
This Ray Cook putter is a very popular option on the market; in fact, it has actually been used as the putter of choice in over 200 different PGA events, all of which were winning events. The putter has a shaft that is 34 inches long, but it can also be purchased an inch longer if you need. It features a three-degree loft and a 70-degree lie, which is common on many of the putters on the market.
The balance and the accuracy that you can achieve with this model is great for intermediate level golfers, but it can also work for individuals who have more or less experience as well. The medium-sized grip on this putter is very comfortable to hold, so you don't have to worry about fatigue during your game.
Pros
This putter offers a great amount of balance, which makes aiming your golf ball easier.
The design and the colors on this putter look great.
This putter has a good bit of features at a relatively low price point; making it a great value.
Cons
The putter's head is not coated with high-quality paint, so it can chip easily.
When impact occurs between the putter and the ball, it makes a loud cracking sound.
The next putter on our list is one that has a beveled face, which helps to keep the ball on the green without it lifting into the air on every putt. The face of the putter has an aluminum insert that is designed to improve the accuracy of your short game. The soft, yet firm design of the golf grip is perfect for minimizing the amount of fatigue that you get in your hand during your golf game as well. In addition, it is available with a 33-inch long shaft to a 35-inch long shaft so that you can choose the size that is right for your needs.
The putter has a simple aesthetic that is not hard on the eyes. It has grooves on the surface of the putter to help you easily line up your shots; in fact, the white lines that are part of the design are easy to see on this putter, making it so that you can line up your putt quickly.
Pros
Lining up your shot with this putter is very simple.
This is a very responsive putter, so you will easily be able to improve your short game.
The feel of this putter is amazing; in fact, it even works when your ball goes off of the green.
Cons
It does take a bit to get used to this putter because it is a bit heavier than most putters.
This putter is designed more for a beginner, so it may not be a great option for an advanced golfer.
If you need a putter that works for anyone, then this Wilson putter is a great design to consider. It can be used by both right and left-handed individuals, so no matter which way you swing your putter, this model will work for you. Since the design is well- balanced, you can expect a strong putter with a reliable performance, no matter what the weather conditions are. In fact, it has an all-weather grip that helps you keep your grip in the rain.
The brass head of this putter gives it an elegant look. It is designed with a traditional putter shape, which means that it will provide a smooth stroke with little effort on your part. The shaft is 35 inches in length, the loft is four degrees, and the lie is 72 degrees, which gives you the perfect angle to those tough shots on the green.
Pros
The all-weather grip makes it easy to control this putter in the sweltering heat as well as the pouring rain.
The responsiveness of this putter is amazing.
It is a putter that can be used by both left and right-handed individuals.
The solid brass head on this putter has a very durable design that does not take a lot of damage.

Cons
It does vibrate a little when it contacts the ball.
The retro feel of this putter is not the best design for everyone.
The final putter that we are going to look at in this guide is another Pinemeadow model that is designed to provide well-balanced swings. The head of this putter is white with black and green details, and on the top of the putter, there are two circles with a line through them that is designed to help you align each putt that you make.
The exterior of the putter also features a non-glare design that is optimal for playing on a bright and sunny day. The grip is designed so that it absorbs most of the impact when you hit the ball, and the face insert is designed to keep the ball on the green as much as possible. This putter has a shaft that is 34 inches long, so it is a great option for most golfers.
Pros
The grip on this putter is great, no matter what weather conditions you are playing in.
This is a great option for tall individuals.
The insert in the face of the putter is great at minimizing the bounce of the ball.

Cons
The bright white head of this putter stains easily.
This putter may feel a little light to some.
Video Review
Golf Putters Categories
The best putters can almost always be placed in one of three categories. The main factor the separates the categories is the length of the shaft; here's a breakdown.
These putters, which are often used on tour, have a standard shaft length that is between 32 and 36 inches. To use a conventional putter with any level of success, you need to have a very steady hand; in fact, too much wrist action could actually hinder your game instead of help it.
If you need a little more length to your shaft, a belly putter is typically about 41 to 44 inches in length. When you use a belly putter, you can place the grip of the putter against your belly so that the golf club is more stable during your swing. This additional point of contact makes the motion of your wrist easier to control.
These putters have a longer shaft that is between 48 and 52 inches long, which means that you will need to utilize the pendulum swing in order to putt properly. Long putters are ideal for inexperienced golfers because of the minimal wrist action that this putter requires.
Features to Consider
As with all purchases that you make, there are some features that you will want any new putter that you purchase to have. If you are new to the game, then you may not be aware of the most important considerations to make.
Firstly, you don't want a putter that is difficult to swing because it weighs too much, so you want a putter that weighs less than a pound. The weight distribution is also a very important aspect to consider. Based on your play style, you need to determine how much weight you want in both the heel and the toe of the putter face.
The shaft length of the putter that you are using needs to accommodate your height. If the putter that you select is too short, it can cause you to have back pain during your game from bending over too much, and it can also make it more difficult to hit the hole.
The ball always comes off of the green when you putt, but the loft will help determine how much air your ball will actually get. In most situations, you only want a three or four-degree loft, but it may vary for your playing style.
The angle that the club head sits on the ground should be about 72 degrees with most putters. If this does not seem right for your game, you either need a longer putter or your posture is off.
If you are not sure where you need to hit the golf ball with the putter, then look for a putter that has alignment markings. This gives you an indicator or an easy way to tell where the best point of impact is for that specific putter, which means that you can hit the sweet spot on the putter with little to no effort.
How to use Best golf putters infographics

Final Thoughts
Since your short game makes up more than half of your golf game, you need to make sure that you have the best golf putter available. Hopefully, our guide can help you find one of the best putters under 100 dollar to perfect your short game. Remember, not every putter is going to fit your style of play, so make sure that you take the features that are most important to your game into consideration before making a purchase decision.
Summary
Reviewer
Review Date
Reviewed Item
Best Golf Putters Reviews
Author Rating

Tags: Best Putters Under 100 Dollars


Categorised in: Golf Accessories