The Best Golf Grips to Improve Your Golf Swing
Last updated on August 21st, 2018 at 03:24 pm
When you're ready to hit the links, it's important to have the best golf grips on your golf game. According to golf.com, 90 percent of golf players use the wrong grip in their game, and as a result, their golf game suffers. In fact, the wrong grip can cost you at least five strokes per round. So, where can you find the grip that may work best for your game? There are a wide variety of sources, and in this guide, we're going to outline some of the best grips on the market today so that you can find the best for your game. check out our latest post how to regrip a putter? Good golfers are aware that having a good shot begins at their fingertips and the club grips in use. Achieving an accurately optimized spin; ball control; long-distance; shot forgiveness and finding the sweet spots are some of the major goals in the game of golf. When you're finding it hard achieving these, then, you may want to have a rethink on what the grip of your golf club should be.
Best Golf Grips Comparison:
Some Best Golf Grip Kits
How to Find the Best Grip for Your Swing?
A popular misconception is that finding the best grip for your golf club is directly related to your hand size. In fact, based on the research done by golf.com, it actually has to do with your swing dynamic. The best way to find the grip that'll work best for your game is to simply experiment with different grip sizes. This is useful because it'll help you to find the grip that works best for your swing.  You can test this in a shop before you make a purchase. Simply try different grips and use the shop's launch monitor to gauge your swing performance. These shot-tracking devices can really help you narrow down which grip is best for your overall game.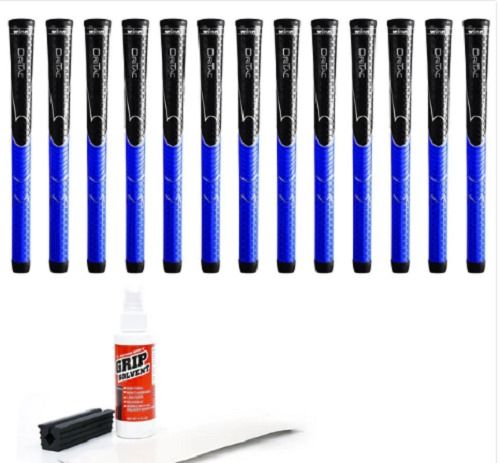 Types of Golf Grips
Every individual who plays golf will not want the same type of golf grip. To help you find the best golf grips for your game, let's start by taking a look at the different types of golf grips on the market.
Rubber golf grips – This is the most common type of golf grip that you will encounter on the market. The rubber material is soft so that it easily shapes to your hand, but it is also firm enough to give you a great grip.
Corded golf grips – This type of golf grip is great for providing resistance when you swing your club. This means that you can easily use a corded golf grip when you are sweating from a hot summer day as well as in a rain shower.
Wrap golf grips – This type of grip is designed using a strip of soft material that is wound around the handle. Sometimes this type of grip is made from leather, which gives it a tacky surface that is soft to the touch.
Putter grips – This is a grip that typically has less traction and grip than the other types of grips because they are not designed to be swung as hard.
The Best Golf Grips Reviews-Top 10 in the Current market
If you want a balanced swing that allows for you to bypass any swing interruptions that can be caused by your wrist, then the Super Stroke Fatso putter grip may be your product. This is a very thick putter grip that will help your game immensely.  The reason why it's so effective is that it prevents the breaking at the wrist because the hands are dealing with the width of the putter. This makes the follow-through so much more balanced. Balance is crucial to your swing during putting and this particular grip really delivers. In fact, this is the best putter grip for bringing balance to your swing. It is 1.7 inches in diameter, which makes it one of the thickest grips on the market. Despite this, it really goes on most club shafts very easily. It has a soft feeling, but it isn't soft enough to feel strange on the putt. go to manufacture site and see the installation. Pros
The grip feels very comfortable in your hands, especially for long range swings.
The lightness of this grip makes it a welcome addition to the best golf clubs.
This golf grip is available in a number of colors to match the rest of your golf gear.
Because of the way that the grip fills your hand, it gives you a very stable swing on the green.
Cons
Though this grip is excellent in most situations, it is not the best option for rainy weather because it tends to become a bit slippery when it is wet.
These grips are a bit large, so if you have a decent swing with a smaller grip, it may take a bit of time to get used to the design.
Super Stroke Fatso Putter Grip Video Review:
When golfing, one of the most annoying things that can happen with a poor grip is when it turns in your hand while you are swinging. The best golf grips will be the ones that maintain their positioning in your hand so that the follow-through and the trajectory aren't adversely affected during your swing. This Golf Pride Cp2 grip helps provide this functionality so that your swing puts your ball much closer to where you want it to go. In fact, you may be able to land more than 10 feet closer to the green than with other grips. This grip greatly reduces the torque in your swing so that you can experience some of the best control available on the market. Additionally, the taper on this grip is straighter; this promotes a more even grip that you can use for added fluidity in your overall swing. see more details here. Pros 
This device is very easy to grip; in fact, you can easily maintain your grip in the rain as well as in wet humid conditions.
The reduced taper of this grip gives you a lot of control when you swing your golf club.
This grip can easily be cleaned with a little bit of soap and water.
This grip is on the softer side when it comes to style, but the tackiness of this grip is amazing.
This is a very durable grip that will last for a long time on your golf clubs.
  Cons 
The grip may not be as strong without the use of a glove.
You may feel a bit of stiffness in this grip if you have large hands, but there are different sizes that are designed to accommodate different golfers.
The vast majority of grips today are made of rubber. What makes the Winn Excel Pistol Midsize putter grip unique is the fact that it is actually made of Excel polymer. This makes this grip a bit more durable and comfortable on the hands compared to other grips. Additionally, the Excel polymer also adds a unique feel that allows for greater control and a tension-free gripping experience that translates into more swing control. This grip also has a pistol shaping that provides one of the best experiences on the market from an ergonomics perspective. This product also provides a unique tread pattern, which actually delivers more texture to the user. This provides more thumb traction at the top and lower traction on the bottom and can actually benefit your putt. Overall, the feel of this grip is excellent and your swing will feel more natural and ergonomic. check manufacture site more details. Pros 
Because of the type of material that this grip is made from, it has a very comfortable grip that will help keep fatigue from setting in as you play.
The thickness of this grip is great for reducing the number of vibrations that you feel during impact.
The tread pattern gives you more thumb traction than some other models, which is great for stabilizing your swing.
The exterior design of this grip is very appealing, and there are even a few color variations that you can select from.
  Cons 
It does not have the best grip when it is raining.
It is a little bit thin in diameter, which means that you may need to use your wrists more during your swing.
Installation is not very easy because a golf vice is needed as well as a hooked golf grip replacement tool.
Another Winn product that uses the Excel polymer material, this excellent golf grip provides a very cushioned type of feel for golfers. As a result, the ultra-soft material provides some great shock absorption and can even dampen the vibration from your most powerful swings. This makes it a go-to golf grip for those that suffer from hand fatigue; it can even be a great choice for arthritis sufferers as well. This particular golf grip also has some great aesthetic options as well. You can choose from a great looking black grip or a copper grip that really looks nice on most clubs. The pattern on the Excel polymer shaft is dimpled so that there's a good amount of airflow and comfort for the hand. see more details here. Pros
These grips are made from a very durable material that is designed to last for quite a long time.
The soft exterior of this grip makes it a very comfortable device to use that reduces the amount of hand fatigue that you experience.
It is designed with added shock absorption, which is great for those who have issues gripping the golf club because of arthritis.
The tackiness of this golf grip is great, especially if you are playing in the heat of the summer.
  Cons 
The grips are more difficult to install than traditional rubber grips, but the time invested is well worth what you get out of these grips.
These grips tend t take away from the feel of a putter, so it may not be the best option for short swings.
This Ping golf grip is one of the best grips for arresting wrist movement because of its larger diameter. Like the Fatso, this grip has a thicker design that makes it a little harder to grip than other products of its type. In fact, the Palm Lock from Ping has a diameter of 1.5 inches, which gives it a lot of thickness for your hands. While it only comes in a gray, black, and white pattern, this is still an aesthetically pleasing and sporty golf grip. It has a lot of traction because of its dimpled design so that you won't have to worry about losing your grip during the putt. It is very easy to install, and it is also thick enough to provide a shock absorbing experience for hands that are sensitive to the high levels of vibration and impact that can come from golf. head of the manufacturer for more details. Pros 
The sponginess of this grip is perfect for reducing fatigue during your game.
This grip is great for adding the control to your golf swing.
The black and white design is quite stylish, which means that you can easily accessorize with your other golf gear.
The palm lock is great for ensuring that you have a good grip; in fact, it even works well in wet conditions.
  Cons 
This golf grip is a bit too narrow to properly quiet your hands, which may be a turn-off for some more experienced golfers.
The oversized jumbo design may not work that great for individuals who have smaller hands.
This model does take a bit of time to get used to.
One of the best features of this Dri-Tac Golf club wrap is the fact that it weighs only about 25 grams, which provides less swing weight. This reduced swing weight allows for more control on your swing, which is one of the reasons that you'd consider any golf grip. This is one of the best grips for multiple weather conditions because of the Dri-Tac technology. Simply put, this material makes golfing even in wetter conditions more stable because you won't really lose your grip on the shaft of your club. This means that your golf club won't spin in your hands during your follow-through. This is because the grips actually get tackier as they get wetter, which in turn provides more traction during your swing. This really makes these grips excellent for those that golf in areas that have more rainfall and for those that golf in the early spring or late autumn. see more details here. Pros 
This golf grip has a great amount of tackiness; in fact, there is very little slippage when your hands are wet.
The grip is designed from soft material, which makes it very comfortable to use.
The shock absorption of this grip is great for reducing the hand fatigue that you feel on the course.
The lightweight design helps you swing faster to get to the green in fewer swings.
  Cons 
This golf grip has a two-ply construction that is a bit more difficult to install than most grips; in fact, some golfers prefer to have it professionally installed.
Though there are two color options to select from, both of them are gray, which leaves you with very little ability to customize your golf club.
The oversized design of this grip may make it a bit too large for someone with small hands.
When you want to represent your favorite NCAA team or school, then there's your best possible option are these NCAA golf grips. As the best grips for displaying team spirit, these also do a good job at providing a durable experience. They are comprised of rubber, which is dimpled and textured for a sturdy grip during most course conditions. There's a design for any college that you desire, from Purdue to Texas Tech, and it even includes a removable gel top ball marker. The thickness of the grip is about 1 ¼ of an inch, so it does have a decent amount of width to it so that your wrist won't be as active during your swing. You'll also notice that the grip is contoured so that each part of the shaft fits slightly differently in the hand, which results in an ergonomic experience. Pros 
This golf grip is designed using high-quality material that will last.
You have a lot of options when it comes to the design of this grip, especially if you have a favorite college sports team that you want to display on your golf club.
The contour of the grip is perfect for giving you the control that you need for your swing.
The ball marker on the end of the grip is a welcome addition.
This grip works great with putters as well.
  Cons 
If you don't want a college team design, there are not many other options available.
Some of the team colors that you can select from looking a bit gaudy.
If you want to reduce the tension in your swing, these Dri-Tac golf grips may work well for your overall golf game. Additionally, as grips that use the Dri-Tac material, these products actually increase the amount of grip that you can feel when the weather gets wetter. This is because the material gets tackier under these conditions, which actually makes them grip. As a result, these are ideal for those that live in areas with more rainfall. In addition to this, these are also some of the best grips for shock absorption; in fact, they have 65 percent more shock absorption than the average grip. With this feature, those that golf with hand, bone, and muscle conditions can play the game without much discomfort or fatigue. In addition to this feature that makes golfing more comfortable, these are some of the best golf grips for irons because they are very lightweight. This means that you can swing with more control. Pros 
This grip remains tacky it wet and humid weather, which means that you don't have to worry about your hands slipping while you swing.
This grip is great, even when you are not using gloves to play.
There are quite a few color options that you can choose from if you want to accessorize your golf equipment.
This grip is designed to absorb 65 percent of the shock of impact, which will reduce your hand fatigue during the game.
  Cons 
This grip tends to wear out a bit quicker than its competitors, which means that they will need to be replaced more often.
These grips may be a bit soft for some golfers.
Traction is very important in your golf grip. In fact, if you don't want your grip to spin on the slice, then you need something that's designed to have a bit of traction. These velvet grips from Golf Pride have this feature; in fact, they are designed using computers so that there is a nice non-slip pattern that is accurate to the smallest measurement. Despite this, these are some of the best grips on the market for a smooth feel. These don't have any feeling of abrasion, despite the fact that they can be round or ribbed and can come in a wide variety of sizes. The company accomplished this unique feel because they used a proprietary rubber blend that makes the grips feel more velvety in your hands. Additionally, the taper is also at a high level, which makes these feel very ergonomic and form-fitting. Pros 
The non-slip surface is ideal for hot, humid days.
The grip is great whether you are wearing gloves or not.
The material of this golf grip is very durable, which means that it will last for a longer period of time.
The lightweight construction is ideal for helping you get your golf ball to the green in fewer swings.
  Cons 
These grips do not offer the best performance in wet weather.
The design of the grip is very plain, which could be an issue for some.
Pistol construction is excellent on a putter grip because it lends a lot of control to your putt. These putter grips from Odyssey have some of the best semi-pistol design on the market today. As a result of this unique design feature, these golf grips will fit just about any hand type and won't spin on the swing. Its grip length is about 10 ¾ inches, which is relatively long for a golf grip. Additionally, the diameter is also fairly large so that you have a little less wrist action on your average putt. For those looking for a bit of customizability, these golf grips shine; you can choose from jumbo black and red, island breeze, and tropic. Pros 
This model has quite a few unique designs that are bright and colorful.
The installation process for this grip is simple.
The soft, yet the firm design is perfect for giving you the control that you need for your swing.
The tackiness of this grip is almost perfect, which means that you will not lose your grip when your hands are wet.
  Cons 
The thick handle design may be a bit too much for those with small hands.
The busy design of these grips is not for everyone.
Top 10 Golf Grips Video Reviews
What to Look For in a Best Golf Grips
As with any purchase you make, there are a few features that you need to look for in your new golf grip. Not everyone has the same sized hand, which means that someone with a large hand may want a different golf grip than someone with a smaller hand. Let's take a look at some of the considerations that you will need to make. Grip Size The most important thing that you need to consider when you are looking for new golf grips is the size of the grip. If you choose the wrong size, it can easily add a few strokes to your game at each hole, so make sure that you select the right size for your hands. You can select between four different sizes, which are undersized, standard, midsize, and oversize. If these sizes do not accommodate your needs, custom sizing is also an option. Grip Material The type of material that your golf grip is made from will help determine how good of a grip you can maintain on the golf club. Many golf grips are made of rubber, but you can choose from leather and other synthetic materials as well to get the best grip possible. Grip Texture  You are also going to want to consider the texture of your new grip. Do you need a smooth feel or is a coarser surface better for your golfing needs? Grips provide more traction, but if you wear a glove to play golf, then a smoother surface may be preferred. Grip Firmness  The firmness of your grip controls that amount of speed that you have behind your swing. Firm grips are often preferred by those who play the game at a professional level but a softer grip is a great option for golfing with lower speed swings. Maintenance  When you choose a new golf grip, one of the most important things that you need to consider is how easy the grip is to maintain. Since you hold the grip to play, you will most likely know when your grip is wearing out, but it is important to clean the grip regularly so that it will last longer. Most grips can be washed with a small amount of dish detergent, but make sure that you don't use anything that will leave surface abrasions on the surface. If the golf grip takes more to maintain it, then you will probably want to consider something that takes less effort.
Golf Grips Tips Infographic: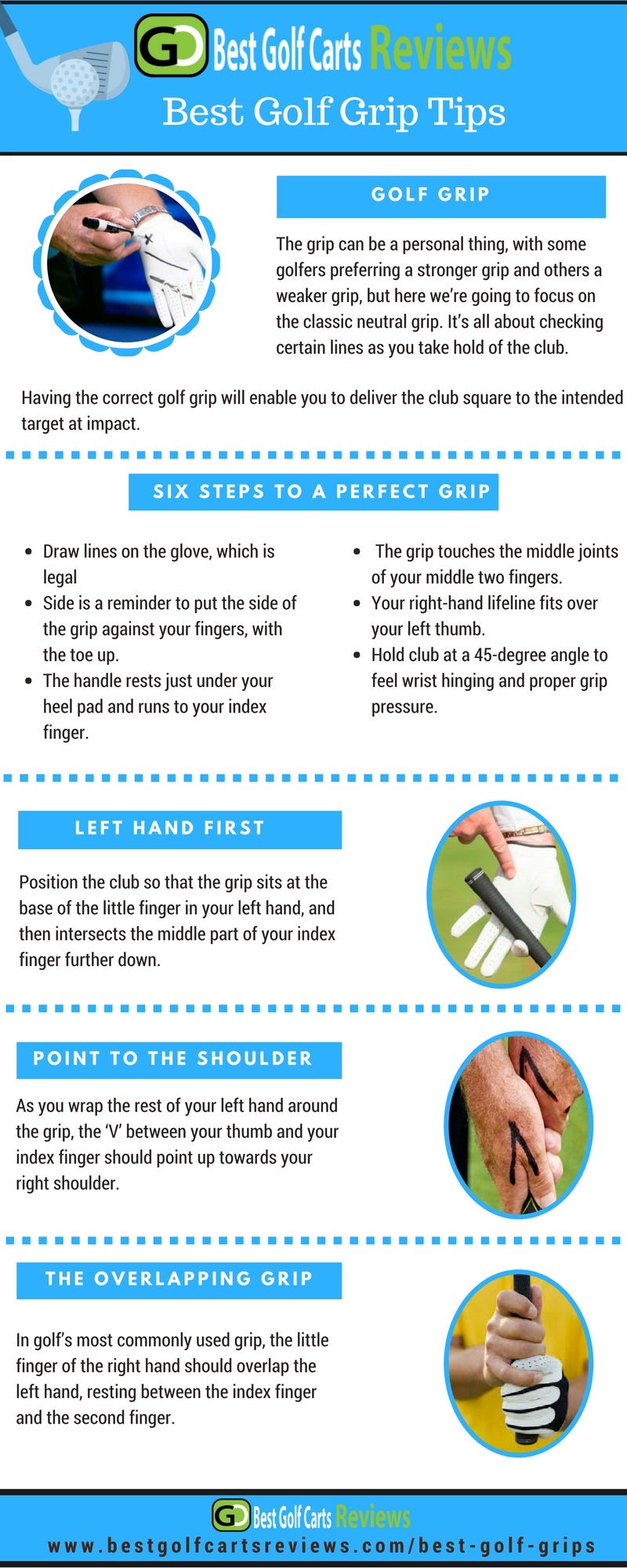 Without further ado, we will be analyzing the key guidelines and pointers you should take note of while selecting the grip/handle for your golf driver. What size is golf grip best for me? The difference in sizes of our hands makes the grip handles on the golf club varying. If you're going to be having a great golfing experience, even as an amateur, the first thing you should consider is finding out which grip size is undersized, oversized and suitable for you. To determine your grip size, you must consider your shot pattern, hand size, and swing technique. It is recommended for youth players to consider selecting undersized grips. If you use an extra-large [XL] golf glove, the best grip for you is the jumbo or midsized grips. For men with the medium [M] or large [L] and women with large [L] glove sizes, the best grip is the standard grip size. Usually, undersized grips are the fitting grips for men with small [S] grip glove size as well as women with small or at most medium glove size.   What is the standard size of a golf grip? The golf grip size considered the standard in the game is for golfers whose playing hand measures around 7-inch to 8.75-inches from the base of their wrist lines to their middle fingers' tips. The standard size of a golf grip is the most used among golfers. What is a full cord grip? Full cord grips are grips whose synthetic rubber covering extend downwards the club's shaft so as to give their users an optimized feedback, confidence, and control of their golf drivers. While many grip types of golf clubs only cover the handle part of the shaft, full cord grips are fast evolving due to the better grip stability, greater control and lateral traction they give their users. How to grip your golf club? Here's a way to get it right while gripping your golf club for a better swing, shot and control than you've been having. As is usual with amateurs, grabbing the club by the uppermost part of the grip will make you lose control of the club, resulting in sub-par performances. It is recommended that golfers leave at least a one-inch space from the tip of the grip so as to have a firmer control. To have a firm grip on your club as a right-hander, make sure the grip is sat at the base of your left hand's little finger. Then divide the middle of your forefinger further down the grip. While wrapping the other parts of the left hand around the club's grip, by now, the shape 'V' should be visible in between the forefinger and your thumb while it points towards the right part of your shoulder.  
How much does it cost to regrip my club?
Replacing the grip of your club will cost you on an average of $10 to $15 depending on your choice. You can find the full replacement kit for your golf grip on online retail stores after deciding on the size you want as mentioned earlier. Instruction on how to fit your new grip on your club is included in your replacement kit.
Final Thoughts 
Based on our golf grips reviews, you should easily be able to find the item in your perfect swing. Golfing is a great game for just about any player, but finding the right grip is very important in order to play at your best when you hit the links. Each of the products that we covered has the ability to reduce the number of swings you need to get to the green, stabilize your swings in general, and make you feel more balanced as you golf. As was mentioned, it may take a bit of practice and testing before you find the best golf grips for irons that you're using, so feel free to hit up the golf shops in your area to give each a sample before you make a purchase. Remember, for the best golf grips, you'll need to exercise some due diligence, but the extra effort will yield dividends for your golf game.
Categorised in: Golf Accessories