The Best golf hitting nets for Improving Your Game
Last updated on August 21st, 2018 at 03:06 pm
We don't always have the time to hit the links. When we aren't able to go to the course, it's still important to practice our swing from time to time. One of the best ways to do this is using an indoor golf practice net. They are easy to use and most can be used indoors when the weather starts to dip. They can improve your game greatly, so why not purchase one?
Best golf hitting nets Comparison:
In this guide, we'll be reviewing the best golf hitting nets on the market. We'll also provide a buying guide so that you can understand the benefits and know what to look for in a net.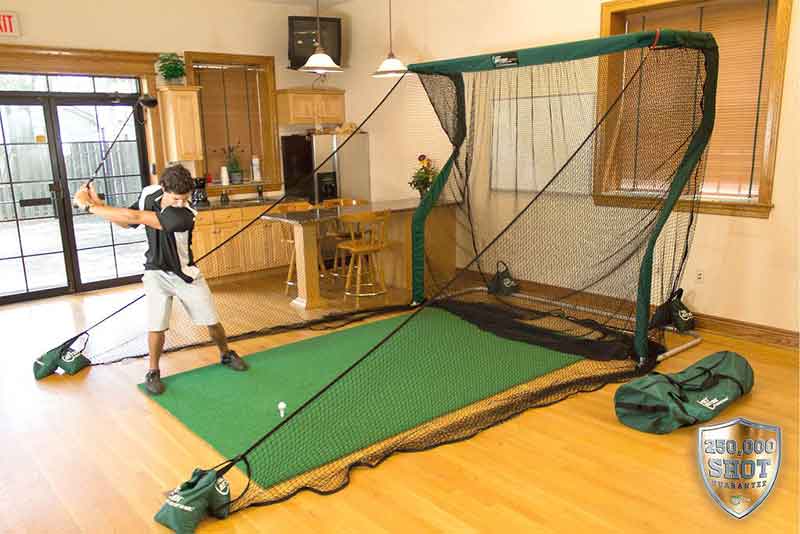 photo Credit: https://www.thenetreturn.com/
Golf Hitting nets Video Reviews
Things to Consider Before Purchasing a New Golf Practice Net
Before you go out and purchase your new net, there are some considerations that you should think about:
This is a major consideration, especially considering that you'll be firing off your golf balls directly into the netting. When you're looking for a new golf net, ensure that it is strong and durable enough to last for several thousand swings. Cheaper netting tends to wear out much faster than quality netting, and the last thing you want to shoot right through your net and damage something in your home.
With this said, your net shouldn't be too tight because it needs to move in order to absorb the impact of your golf balls. Look for a net that is strong and flexible, and if you can, look for one that has multiple layers as well.
Golf nets can vary greatly in size, which is advantageous because not everyone has the same space. Some golf nets are available in multiple sizes, which is perfect for those that have strict size requirements. When it comes to placement, many people place these in their garage or in a basement because these places have room for a swing.
The best golf nets will be easy to store, so don't skimp on this important feature. You'll want to be able to tear it down when you don't need it and reassemble it within minutes when you do. You can also look for portability; there are many nets out there that can be stored in carrying cases so that you can take them with you.
When you're working on your swing, targeting is very advantageous. This means that your net will have targets inside the net that you can aim for. This can really help your game because it'll let you work on trajectory and direction.
As a general rule, bigger hitting areas are best. This gives you more area so that you won't have to worry about accidentally firing a golf ball outside of the net. This will mainly depend on your available space, but bigger is best.
The pricing for golf nets can vary quite a lot. As we mentioned, they are very economical, especially when compared to club fees and gear rental, but you shouldn't skimp either. As a general rule, get the best that you can afford because these will have stronger, longer lasting materials.
Some nets have special features that will enhance your indoor golfing experience. You may find nets that have things like ball returns very useful since they'll make the times between swings shorter. Another great feature is a one-button assembly; these are the "pop-up" nets that we mentioned previously. You can even find multi purpose nets that can be used for other sports as well.
Reviews for Golf Hitting Nets
The Spornia practice net is a great product for anyone looking to work on their trajectory. It has a great target in the middle that makes it easy to work on your directional skills. This is a large golf net, which means that it will work well in a large basement, garage, or on the lawn.
It has a good surface area that allows for the net to easily catch balls that you've chipped lightly or swung in at high speeds. In addition to all of this, this net's targeting area is designed to absorb impact and sound. This means that this is a great net to use when you don't want to disturb others.
It is also easy to break down; in fact, it only takes about a half of a minute to tear down or assemble. Storage-wise, the Spornia is designed to store up to 200 balls at a time.
Pros
This net absorbs the sound of your balls.
It's easy to assemble and pull down.
The balls roll slowly down so that there's no damage to the floor or the ball.
It has an automatic ball return system.
Cons
The bottom section is poorly aligned with the ground.
The target lines don't necessarily align up with the placements.
Chipping is a skill that many golfers neglect, but with this product from Jef World, you can work on this important aspect of the game. This chipping basket is completely foldable so that you can quickly store it away when not in use. It's also a relatively small product, so you won't have to worry about it taking up much space in smaller apartments.
We ranked this as the best for chipping because it is made of tough 600 denier nylon, and it uses a three chipping basket design that does a great job of catching your golf balls. This is also a good product for golfers that are new to golf nets because it takes absolutely no assembly. Many golfers can benefit from this product. This is because the chipping skills that it promotes will transfer directly to your chipping skills at the course.
Pros
At only 23 inches in diameter and a weight of only two pounds, this is a very easy store and transport golf net.
With three baskets, it a great net for chipping.
This is a product that is best for your short game.
It has a target in the center for working on your precision.
Cons
This product is a bit small for some.
Its body is made of plastic, which can feel flimsy.
3# Best Indoor Golf Net for Working on Range: Rukket Haack Golf Net
One of the best features of this net is the fact that it's fully endorsed by legendary golf coach Chris Haack. This means that it's one of the best golf nets for working on your range and your overall game. Another defining feature of this product is its strong netting. The netting has a four-ply construction that is knotless and is durable enough to take high-velocity shots with ease.
When you're practicing your swing, you are usually sending the ball in at high velocity. This net stands out because it has such a good height for shots make it a great product for practicing. Simply put, you won't be able to accidentally send your ball ricocheting around the room with this net.
Pros
The netting is very durable because it has four plies.
Rukket provides a lifetime warranty for this product.
It has a good height to catch every ball you send it.
To pull it down when not in use, you can just unhook the two top connectors; the net will simply drop to the ground.
You'll only need about two feet of clearance behind the net.
Cons
There's no target on this net.
Completely disassembling it does take a bit of time.
One weakness of some golf nets is that they don't return the ball. This means that you'll have to go and collect them when you've run out. This product from The Net Return, as you might guess, is designed to quickly return the ball after it hits. The design of this net is perfect for drivers, irons, and wedges.
The net itself is strong enough to withstand balls that hit it at a velocity of 225 miles per hour. When it's time to practice, the assembly can be done in as little as five minutes. Each component has a color-coding, which makes it pretty easy to put together. Once torn down, the net can be placed inside the included duffle bag so that you can take it with you on trips.
Pros
The Net Return can be used for other sports outside of golf.
It can withstand high-velocity balls.
This product instantly stops the ball, which means that you won't need a lot of clearance.
You can practice hooks, straights, and slices with this.
This is a handmade product.
Cons
It's a little tall for some indoor environments.
The metal on the frame has a tendency to look a bit scratchy.
Rukket Sports is the inventor of the pop-up golf net, and it's clear that they are one of the top manufacturers when it comes to these products. This means that this product completely folds down into a circular and flat shape, which you can then place in the carry bag. This compact design makes this an excellent product that you can take with you just about anywhere.
Once unfolded, the Rukknet has a completely enclosed body that will catch all of your shots with ease. This is because it has a four-ply netting that comes in two layers; in fact, you can even replace the inside netting when it's needed. The inner zones are also perfectly designed to help you slice, execute straights, and perform hooks with ease.
Pros
This product pops up and folds down in seconds.
This is definitely one of the best products for quick practice sessions; you can even take it with you.
It's very strong; it should last you years of practice.
It's designed to capture balls at high velocities so that you can safely use it indoors.
Cons
The frame can break if you twist it incorrectly.
Its foldability can reduce over time.
If the frame gets twisted, it can lose its ability to stand up correctly.
If you are aiming to become a pro-level golfer, then this is probably the best golf net for you. The product is completely square; it is 10 feet in height, width, and depth, which means that you'll have a lot of coverage for your shots. While you can certainly use this product in a large garage or a basement, it's definitely excellent for the outdoors.
One of its defining features is its UV protection; it's fully UV impregnated so that it can withstand being out for years. Other types of weather won't damage it either; in fact, this product is actually commercial grade, so it can easily be used for training as well.
This is also a multifunctional net; it can be used for baseball, soccer, or lacrosse without any additional setup. You won't have to worry about damaging it with any type of ball because it's made of archery-rated netting.
Pros
This is the best product for those that want complete coverage on their shots.
It is completely sun resistant.
This product is designed to withstand any type of weather conditions.
The frame is made of steel, which means that it'll last for years.
Cons
It can be a little too much for someone that wants to practice from time to time.
The Dura-Pro doesn't disassemble easily; you'll have to keep it up all year round.
7# Best Indoor Golf Net for Developing Your Aim: SKLZ Quickster Golf Net
Golf isn't just about your swing and velocity; it's also about your ability to perfect your aim as well. This product by SKLZ is great because it has several zones that you can use to perfect your hand-eye coordination and aim. In fact, you can work on the aim for both your chips and your full swings with this product because it has adjustable targets.
The netting is also very strong and has a return feature that makes it pretty convenient to use. It returns the ball because of the design of the net itself; once the ball hits, it rolls right back to you. The net is also nearly perfectly square. Each side of the Quickster is eight feet, so you get a good amount of coverage as well.
Pros
For such a large net, it assembles from inside the bag in about a minute and a half.
You can practice full swings and chips with this product.
It has adjustable targets that can help your aim.
It can manage high-velocity shots with ease.
Cons
It's a little large for some homes.
The frame is made of plastic, which can feel a bit flimsy.
The target itself can break if you hit it too hard.
When you're working on your swing, it's hard to take into account the terrain at the golf course. Fortunately, this Rukket product comes with three turf samples that you can use so that you can practice different lies. This is very useful because the turf can easily affect your puts and your chips. When you're done practicing, this three turf mat can be folded up and stored with your net.
Outside of this excellent feature, this Rukket product is excellent for quick and easy practice. Like the RukkNet, this product has a pop-up feature and breaks down into a small flat, circular bag. For those looking to work on their short game, it also includes a removable chipping target. Once you've swung, the netting is designed to provide roll-back so that you can move to your next swing more quickly.
Pros
You can use regular golf balls in this Rukket Sports product.
The turf samples are perfect for learning to work with different grass heights.
Both the turf and the netting fold down to a very small size.
It is made of a very durable material in two layers; it'll last through thousands of swings.
Cons
The frame can feel a bit finicky, which can make it difficult to fold down sometimes.
A bad wind can cause damage to the frame itself if you use it outdoors.
At the base, there is a small space. Your balls can sometimes roll through that space and go behind the product.
Benefits of an Indoor Golf Practice Net
So, why bother? Well, a golf practice net has a lot of crucial advantages for golfers of almost every level of golfer. The most obvious is practice; you cannot practice your swing all year at the course, especially if you live in a place with cold winters. That being said, here are a few other benefits:
Swinging your golf club is actually great exercise; in fact, you can burn as much as 245 calories per hour swinging your club alone. Owning a golf net will allow you to swing your club when it's raining, when it's snowing, or even late at night. In any situation, these are great for your heart, especially if you are sticking to a daily regimen.
While there is an initial investment in the net, over time, you'll find that you will be saving money. While you'll need to spend money on balls and clubs, you won't have to spend any cash on club fees or memberships, yet you'll be able to practice. We've all been there: you go to the course, and before you realize it, you use up the bucket of balls that you got from the range. Per bucket, you can spend upwards of $10, so golfing at home with your own balls will be much cheaper.
One of the best features of a golf net is their versatility. You can set them up in your office, your bedroom, or even your lawn. Some of these products can "pop-up," which means that they'll spring up into action when you want to practice your swing. This makes them very useful and allows you to practice your swing at a mere moment's notice. This also makes them excellent for smaller apartments and houses because they can be folded and stored away without much effort.
Video Review:

Final Thoughts
When you have a golf net inside your home or office, you can practice year round. As we mentioned, this has a lot of great benefits for your game and for your body. The golf nets that we've featured in this article are all excellent models that are designed to boost your golf skills. In fact, when you use any of these products, you'll find that you'll have a much easier time with your trajectory and directional skills as well. Hopefully, our golf hitting nets reviews have helped you decide on your next net.


Tags: Best golf hitting nets


Categorised in: Golf Accessories