Callaway 2017 Org 14 Cart Bag
Product Name:
Callaway 2017 Org 14 Cart Bag
Brand:
Callaway
Rating:
Color:
Red/Black/White
Weight:
10 pounds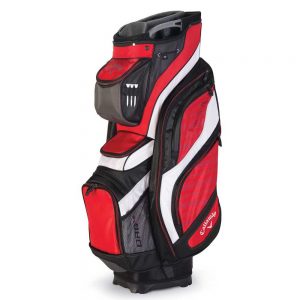 SEE THE LATEST AMAZON PRICE
Last updated on December 13th, 2019 at 09:40 pm
Can you stow all your golf gears in your carry bag without having to stuff anything inside your pockets? If not, then the right time to switch your golf bag to a more convenient cart bag has come. And when buying a cart bag, which brand can be trusted more than Callaway Golf.
The name needs no introduction and has always remained the top choice among the enthusiastic golfers for its golf products. We have hand-picked one of its very best cart bag here for you. This Callaway 2017 Org 14 Cart Bag review will give you an in-depth detail about the product and why you should consider buying it. This is a spacious cart bag that has specific compartments for particular equipment.
Solid Construction:

The cart bag is robustly built so as to last long. It efficiently stands up even when it is fully-loaded with clubs and accessories in it. At a decent size of 38 × 10 × 10 inches, this bag has a plenty of space inside for all your golf items. Premium quality materials used in the fabrication of this bag make it hard-wearing and long-lasting. It will not give up easily even with a heavy-duty use. Moreover, the bag also has an attractive design with vibrant colors to grab the attention of all your golf companions.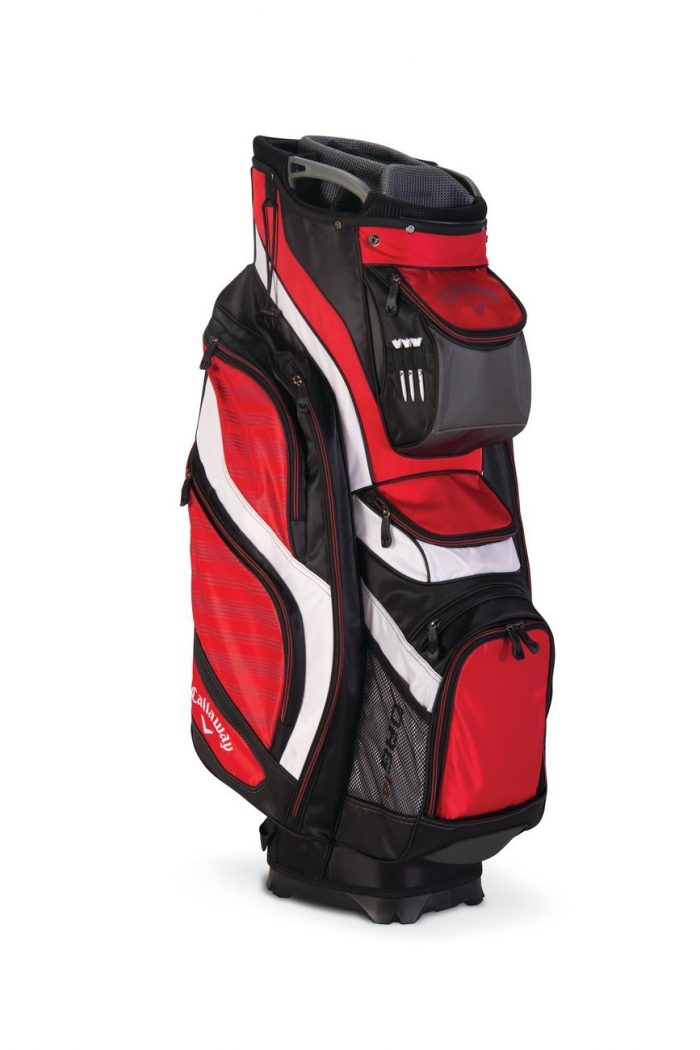 Great Storage Availability:

This amazing cart bag from Callaway has a huge storage capacity. There are several club compartments for keeping your items well-organized. Other valuables can also be stored in their specific pockets for safety and easy access. There is a smartly engineered 14-way divider organizer system for all your clubs. A total of 12 additional pockets is featured on this bag including a velour-lined valuables pocket, ball pocket, thermal lined cooler pocket, umbrella sleeve, GPS finder pocket and two apparel pockets.
Lightweight:

The bag seems impressively lightweight even after it is completely loaded with the golf stuff. The bag itself weighs around 5.6 lbs. when empty. Thus, both men and women alike can handle this bag effortlessly without over exercising their arm muscles. Although it is not designed to be carried, the lightweight of this cart bag makes it pretty easy to carry it if somehow the situation calls for it.
Easy-to-handle:

The maneuvering of the bag is considerably eased because of an innovative handle integrated with the 14-way divider system. There is an E-trolley base system incorporated into this cart bag that makes it really simple to fit this bag into your cart. The trolley lip featured in the bag secures the bag with numerous push carts so that they remain in their position seamlessly. The bag is also very stable and stands upright even when the wind is strong.
Pros of Callaway 2017 Org Cart Bag:
· The bottom pocket can be completely removed and personalized easily with some embroidery or emblem.
· The bag is fabricated from quality material for outstanding endurance.
· It has plenty of storage where you can store beverages, clubs, rain gear, valuable and even your shoes if you may want.
Cons of Callaway 2017 Org Cart Bag:
Only one clip for a towel.
Some complaints related to a leaking insulated pocket.
The straps holding the top of the bag to the cart are not adjustable.
Key Features:
The bag has a 10.5-Inch 14-way divider club organization system.
There are two integrated molded grab handles for added convenience.
An innovative E-trolley base system makes the bag more compatible to numerous push carts.
There are twelve pockets for easy and secure storage.
The bag can easily store six of your favorite beverages and keeps them cool for all the 18 holes.
FAQs:
Is there a towel ring in this bag?
Yes, even when it is not visible in the images, there is a towel ring incorporated into the side of the bag. In fact, there are other places too that enable you to hang your towels like the placement of the clip for smaller towels.
Is there any cooler pocket designed in this bag?
There are two cooler pockets integrated into this bag. These pockets are large enough to accommodate a pack of six cans or two big bottles.
Will there be any difficulty in retrieving and replacing driver?
The bag features full-length club dividers and hence there is no trouble retrieving clubs. It has enough spacing and perfect length.
Final Verdict:
The Callaway 2017 Org 14 Cart Bag is never going to disappoint you with its great storage capacity, comfortable design, and high-grade construction materials. The cost at which this attractive bag comes is also affordable and the bag is completely worth it. If you are also looking forward to a perfect cart bag with great storage, then this is what you need. It has all the necessary features that you may need on a golf course. You can order it online and pack your golf gears and other stuff in it for your next game.
Callaway 2016 Org 14 Cart Bag ON AMAZON