Jef World of Golf Deluxe Steel Golf Cart – The Best for Everyday Use
Last updated on August 20th, 2018 at 09:11 pm
When you need to get from point A to point B on a golf course, the trip from hole to hole can be very fatiguing. This is why a dedicated golf cart like this one from Jef World of Golf can really come in handy when you're on the links. These types of products can really make the difference; they allow you to easily carry your heavy golf clubs without quite as much strain. So, what is it that makes this product from Jef World of Golf so useful? Let's take a look at its most important features.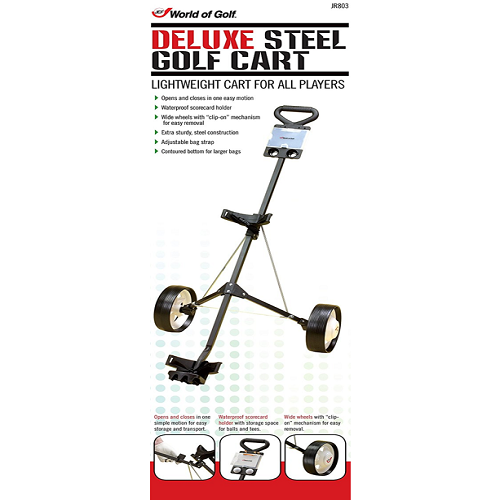 Photo Credit: topproducts.com
Jef World of Golf Deluxe Steel Golf Cart Features:
The first feature that makes this deluxe steel golf cart so excellent is its scorecard holding system. When you're on the course, it can be somewhat annoying to carry the card around when you're trying to keep track of the score. With this product, there is a dedicated scorecard holder right at the top that'll let you keep track of whether or not you and your golf buddies are keeping under par.
In addition to simply keeping your scorecard in reach between strokes, the scorecard holder is also waterproof. This is very useful because in every life some rain must fall, which means that you won't have to worry about punching through a soggy scorecard with your pencil.
Stability on the course is one of the most important features that you should look for in a push cart, and this is where this product really excels. When you're on a course, you'll have different terrains and inclines to consider.
With this in mind, this product has wide-set wheels that will allow the cart to maintain stability. The wheels themselves are also somewhat thick, which means that you'll even be able to push this cart easily through the rough.
You want to have a cart that has the best adjustability available as well, and the Jef World of Golf Deluxe Steel Golf Cart keeps this in mind. Since golf bags can greatly vary in size, this golf cart actually has a contoured bottom with an adjustable strap that will let you store golf bags of just about any size. Also, when your bag is in the cart, it has several key support mechanisms that'll ensure that even the heaviest of golf bags are accommodated.
Finally, when you're on the links, you won't always need the golf cart to be fully deployed. With this in mind, this cart is also foldable to a very small size, and since it's only about eight pounds, you can quickly carry it to wherever you need it to be.
Pros
The golf bag will securely clip on to the body of the cart.
The cart has a contoured body that will accommodate any size of the bag.
The wheels have a good sizing for just about any terrain.
The scorecard holder is waterproof.
It only takes a single motion to collapse and deploy this bag when you're on the course.
It has a heavy duty steel construction.
Cons
The buckle on the adjustable bag strap isn't made of the strongest materials.
If the bag is bulky, it can make the whole thing top heavy.
The bag may shift a bit on the contoured base, which means that you may have to adjust it when on a hill.
There is no braking mechanism.
Final Thought
All in all, the Jef World of Golf Deluxe Steel Golf Cart is a great option for anyone that wants a workhorse golf cart that can be quickly collapsed when needed. It has nice features like a scorecard holder and an adjustable bag holder that really set it aside from the rest as one of the best golf carts on the market.
Categorised in: Push Golf Carts Reviews