The Best Luxury Golf Carts in the USA
Last updated on August 21st, 2018 at 04:17 pm
Golf has always been looked upon as the game for gentlemen and royalty, and being a member of a golf club is still a status symbol. However, there's a difference between regular and luxury golf, and nowhere is that more evident than with luxury golf carts. Golf carts have long been part of the game, but these rides take it to another level regarding comfort, features, and price.
The Best Luxury Golf Carts Available
There's no lacking in golf carts for the wealthy and famous, but the following have stood out from the rest regarding features and popularity. From the looks alone you can easily tell that these are no ordinary golf carts, but there's a lot more to them than meets the eye.
Cadillac Escalade:

The $13,000 Cadillac Escalade is one of the most popular high-end golf carts today. The price tag mentioned is for the standard model, and this edition comes with 16-inch Escalade wheels, functional headlights and the simulated burlwood accented interior. If that isn't enough, you can upgrade it with a $650 Sony sound system and for another $850 you'll get an interior upgrade as well.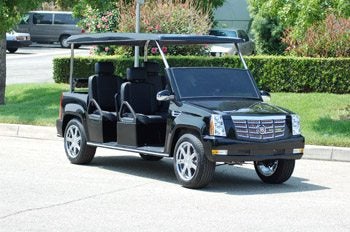 The Escalade also comes with a ball washer and a score card holder for just another $150. Furthermore, this electric cart is a proportionally correct Cadillac with officially GM licensed styling and design.
The Escalade also comes with fog lights, turn signals, authentic Cadillac Escalade chrome grill and aluminum I-beam chassis. What makes this stand out from the rest is its reliability and dependability, and it comes with a durable 48-volt system and Traction batteries. There's also a 12-volt onboard converter for your laptop or phone.
The Smoothster:

The $15,000 Smoothster from Pennwick was designed by Boyd Coddington, who fashioned this from the typical 1930s Roadster. This is a beautifully designed 4-seat cart with side mirrors, turn signals, tail lights, and headlights, and is constructed from the Club Car chassis.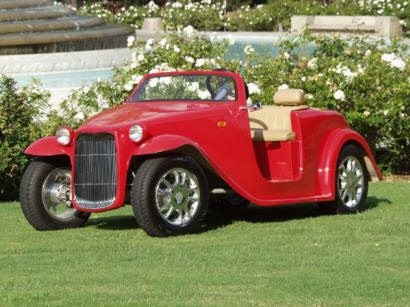 The Smoothster is equipped with 12-inch rims and upgrades for leather seats, and the Alpine stereo is available for $300 and $750 respectively.
Each component of the Smoothster was created by Coddington, and this marked the favorite designer's initial foray into custom golf carts. The inspiration from the classic 30s Roadsters can be seen in the Smoothster curves and lines, making this one of the most aesthetically pleasing golf carts available today.
The cart has a top speed of 20 mph and has a heavy duty fiberglass body that's built to last. Apart from the 48-volt charging system, upgrades for various components are available just like with the other luxury golf carts.
The Shadow:

The $16,500 Shadow is also manufactured by Pennwick, and from top to bottom the vehicle oozes with luxury. The Shadow has many of the interior features present in the Smoothster, plus a lot of upgrade options. However, the Shadow is more powerful as you can have an 18 HP motor installed. With this motor, the Shadow can reach a maximum speed of 40 mph at full charge, right for three rounds on the course.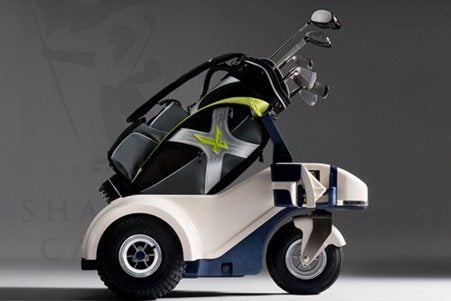 The Shadow is customizable too as Pennwick allows you to add any logo or image on the exterior and personal branding in the interior.
Even with the basic model the luxurious profile is evident and needless to say, it's a very comfortable ride. When it comes to golf carts and cars, what you look for is comfort without compromising the luxury features, and that is precisely what you get here. Bottom line: the Shadow is a fantastic luxury cart.
The Hummer 6 Pack Limo H3:

Courtesy of Bad Ass Golf Carts, the Hummer golf cart is exactly that, a Hummer that's been customized for use on the golf course. The H3 is equipped with a 72 Volt A/C drive and has a top speed of 25 mph.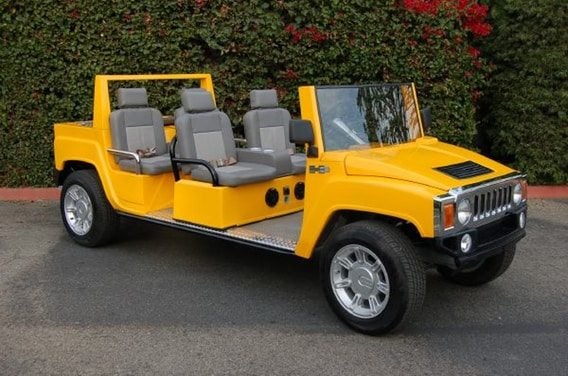 Just like a typical Hummer, the H3 can be customized with custom seats using a wide array of luxury materials. The H3 Hummer can also be fitted with custom off road tires and the paint job of your choice.
The 6 Pack Limo H3 is an upgrade of the regular Hummer H3 and costs $4,000 more at $22,000 in total. Additional features include front coil over suspension, good 15 inch Hummer wheels, and two-tone seats.
You also receive a built-in onboard charger built-in onboard charger, chrome grille, turn signals, taillights, and headlights. This Hummer is not a kit, and once you order it is ready to be driven and used.
The Garia Mansory Currus:
When it comes to luxury golf carts, the name Garia stands out from the rest as it has established a reputation unlike any other, and the Mansory Currus exemplifies that. This road legal golf cart has a top speed of 37 mph, and with a price tag of $77,000 it is more expensive than a Porsche.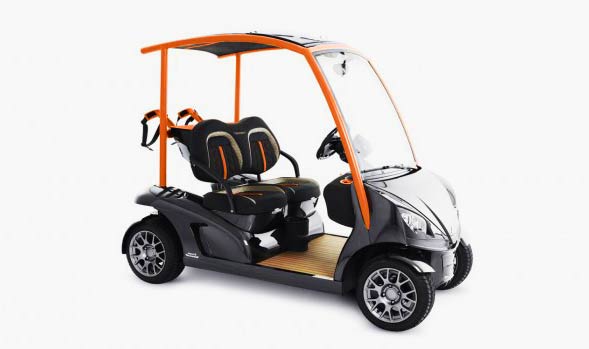 The cart has three driving modes – race, street, and golf – and the choice you make determines its acceleration and speed. According to Garia, the idea behind the Cirrus is to provide golfers with an experience similar to what they would get in a sports car.
The cart buggy has two seats and has room for two bags, and its features are similar to what you would find in a sports car.
It is powered by lithium batteries and has luxurious leather seats, carbon fiber body and alloy wheels. The company behind this cart also develops custom features for supercars like the Bugatti and Bentley, so they have a solid reputation when it comes to high-end products.
You may also consider Luxury Electric Remote Control Golf Trolley Cart
Things to Consider Before Buying:
Purchasing luxury golf carts are not that different from buying a regular cart, with the exception of the price of course. Even though money may not be a concern for you, there are still several factors that will come into play.

Availability:

Is the luxury cart you want still available?

Some of these are produced in limited editions, so the model may no longer be available if the orders have been reserved in advance. If you really want a particular cart but it's sold out, wait for the item to appear online; it will be slightly used but it's going to be more affordable.

Features:

What features are you looking for in a cart?

Do you prefer posh leather seats, DVD player, GPS, and other electronics? Or do you want a fast cart that can take you around the golf course quickly?

Some golfers are more particular about the profile and appearance of the cart, and as you can see from the list above, these golf carts come in all shapes and sizes.

In a regular electric cart, activating several features cause a battery drain, and that is true to some extent in these luxury carts as well. That being said, these units use more sophisticated battery systems that extend their lifespan.

Tips for Buyers:

Whenever possible, buy only from the official website or dealer. Luxury products are available only from officially licensed distributors, and these golf carts are no exception. If you're going to buy one of these, you'd better do it from a confirmed source, so you get the real thing along with the warranty.

If you are going to buy a used luxury cart, do so only from a seller that has a solid reputation. It is your right as a buyer to have access to images and detailed descriptions online, and when you check out the golf cart in person, take it for a drive.
When the cart has been delivered, read the owner's manual and follow the directions for maintenance and safety. Do not use the cart in ways not specified in the instructions. You may consider buying Pust golf carts instead of luxury golf carts.

Accessories:

What are luxury golf carts for if you don't have accessories to go along with them?
Naturally, you want a high-end item to go along with your cart, and a good choice would be the BELDING American Collection Bushwhacker Golf Bag from Amazon. This luxury bag sports a multi-pocket design in harness leather with fine detail and waxed canvas.

You may also want to take a look at the Piel Leather Deluxe Piel Leather Deluxe Golf Bag. This is made of Colombian leather and polyethylene tube construction, and it comes with ball pockets and club dividers. There's even an umbrella slot and pockets too.

There are other items and accessories you can buy to customize your new cart, so take a look online for compatible items. And as should be obvious from the reviews above, upgrades for these carts are available too, so if the base model isn't enough to ask for the upgrade.

The Final Verdict:
Luxury golf carts take golfing to the extreme, but if the rising demand for these is an indication, it shows there is a market for these and it's increasing. What it all comes down to is this: golf is much more than a game, as it is also an expression of your personality and lifestyle. In this regard, there's no better way to express it than with these carts.


Tags: Best luxury golf carts, luxury golf carts


Categorised in: Luxury Golf Carts