Wilson's Ultra Golf Club Review-Men's 2017 Ultra Golf set
Last updated on August 21st, 2018 at 07:57 pm
When it comes to professional golf club sets, the Wilson's Ultra Golf Set comes to mind. The Wilson's Ultra Golf Club review will feature a nice set of Hybrids and Fairway Woods. Apart from the necessary and unique equipment's, the ergonomically designed bag is a welcome addition to an on-the-go golf experience.
Golf is a sport incorporating both accuracy and precision. The sport gradually became popular in the US. In spring 2016, about 25.13 million people became associated with this sport. Therefore, with the growing popularity of golf, players are constantly looking out for golf sets that are worth their investments. Due to this, we have come up with this review to help out the passionate golfers out there. check out Wilson ultra golf clubs vs Callaway strata.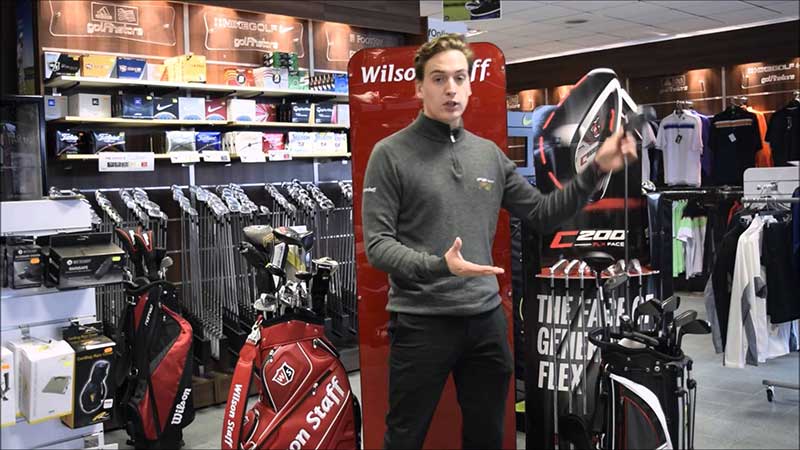 However, in today's review, we've got Wilson Men's 2017 Ultra Golf set, and we'll deep of its details.
To be precise about what you are getting with the package are a Driver, 3 Fairway Woods, 4 Hybrids, Irons 5-PW and a putter that is modern by nature. Most noteworthy the Wilson's Ultra Complete Package Golf Set, which is the model of 2017 is a sweet spot for the newbies out there who want to get started on a path to the professional golfing world.
Now let us talk about what will round up this Wilson's Ultra Golf Club review. Firstly, we would like to go through the basic specs for the buyer's convenience. Furthermore, we will make our way to the benefits and other important criteria to help the buyer make the right decision. Finally, we would give our thoughts on the product itself.
So, without wasting any more time, let's get started!
Product Specifications:
We think it is probably right for the buyer to know that the 2017 model has a few variants available in the market. For convenience, we are featuring the version with a moderate price tag. Likewise, it will be a sweet spot for someone who is about to start their career as a professional golfer.
Wilson's 2017 Ultra Men's Complete Golf Set
| | |
| --- | --- |
| Driver |               Yes |
| Fairway Wood |               3-Wood |
| Hybrids |              4-Hybrid |
| Irons/Wedges |               5-PW |
| Putter |                Yes |
| Included Bag |                 Yes |
| Profile/Specs |      Men's Adult |
Features and Benefits:
Let us talk about the features and benefits of this product. Firstly, the design aesthetics and quality of the included items are spot-on. Now, we want to dive a bit deeper into our discussion about how you can benefit from this golf set. see more details manufacture site.
Included Drivers and Fairway Woods: The golf set includes drivers and woods tailored out of graphite, which gives them a solid feel and reeks of superior quality. These Drivers and Fairway Woods will give the buyer a good edge over the competitors. The inclined design and slope offer superior accuracy and great swing when it comes to reaching the destination. It will also offer great launch for the new golfers out there.
Standard Grip: The clubs all have standard grips with visible markings for the player's convenience. When it comes to comfort, these grips are probably some of the best grips out there.
Iron-Steel Shafts for longevity: The iron steel shafts incorporate in each of the clubs. Furthermore, it will offer long-lasting performance.
Putter: The included putter comes with Heal Toe Weighted Alignment, which offers great control for novices who want nothing more than to send the ball into the hole with perfection.
Height Recommendation: The included clubs are for golfers with a height of 6'2'' or lower. For if you have a taller physique, then it is likely that you may not fall in love with these clubs.
Included Bag: The stylish yellow bag comes with additional storage compartments. Also, the included stands are a standard addition to better handling.
Pros: 
When it comes to pricing, there is no doubt that it fits the needs of most beginners.
The clubs are durable as a result guaranteed to last longer.
Similarly, for the large clubs included in the set, you get covers for protection.
The clubs in the set certainly have a great swing.
The robust build quality also offers a nice feel to the swing.
The carry bag is easy to handle and offers premium quality.
For those who want to carry additional stuff, this set has you covered.
The included hybrids offer great functionality.
The grips feel solid for all the clubs. They offer you a good amount of functionality.
The lightweight demeanor of the clubs will come in handy for an effortless swing.
The balance is certainly incredible for a product meant for novices.
Cons
The drivers head tend to come off after some use and needs replacements.
It doesn't come with Sand Wedges. If you need them, you need to pay a few extra bucks.
The golf set is not suitable for pro users. If you are going for a professional set, this product is not for you.
Why Should You Buy Wilson's 2017 Ultra Men's Complete Golf Set?
No matter you're starting up with Golf or already a professional, a highly equipped golf set is the best thing ever can happen to you. But the fact is, without breaking the bank, how can you get one? Specially for beginner's, it's hard to meet both ends of price and quality.
Here comes Wilson's 2017 Ultra Men's Complete Golf Set as a solution to it!
Let's have a look at the reasons for why we're praising this golf set so much-
The package itself contains a driver, 3 Fairy Woods, 4 hybrids, a modern putter and an Iron's 5-PW! What else can you think of in a starter golf set? I think of nothing else!
The materials of which it's made of includes Graphite driver and Fairway wood that ensures a top-notch performance and of course supreme durability.
Beginners have struggled to get the places where he has to put the fingers. To make it way easier, there are grips marked on the handle.
To make the shafts be used for years, it's needed to be hard and sturdy. With an iron steel-made shaft in Wilson's 2015 Ultra Men's Complete Golf Set, it can't be any better!
How to use Wilson golf men's 2017 ultra complete package?
When you are thinking about professional golf, then your first bet should be the Wilson golf set. It has several nice features including the fairway woods and a set of hybrids.
The popularity of golf is increasing at a very high rate. With this increase in popularity, players are looking for the best golf sets that will be worth every penny.
The complete package of Wilson's golf 2017 ultra has the following:
The fairway woods and graphite driver
The graphite wood is durable and of very high quality. You get maximum accuracy by using the fairway wood and the launch is high. You will achieve your longest drive by having a low spin and combining it with a high launch.
The driver has lofts of between 8.5 degrees and 10 degrees. If you are starting out your driver should have a loft of 10 degrees or slightly higher.
Hybrids
The hybrids combine an iron length shaft and a fairway wood head. The reason for doing this is to have more options when you are playing golf. The long irons have very limited options.
The best way to know the distance when you are looking at the hybrids is certainly the loft. When the loft is equal, the hybrid will have a better performance in regards to forgiveness and distance.
Irons
You use the iron when you are 200 yards or less from the green. The closer you are towards the green; the iron you use becomes higher. The Wilson golf set has five irons and a pitching wedge [PW].
Modern Putters
The purpose of the putter is to get your ball inside the hole. You use it on the green. Putters come in many styles: long, belly, bent, short, heel-toe, and center-hosel.
When you are playing golf, a golf set that is highly equipped is the one thing you need. The Wilson golf men's 2017 will offer you the right solution.
infographics of Wilson Men's 2017 Ultra Golf set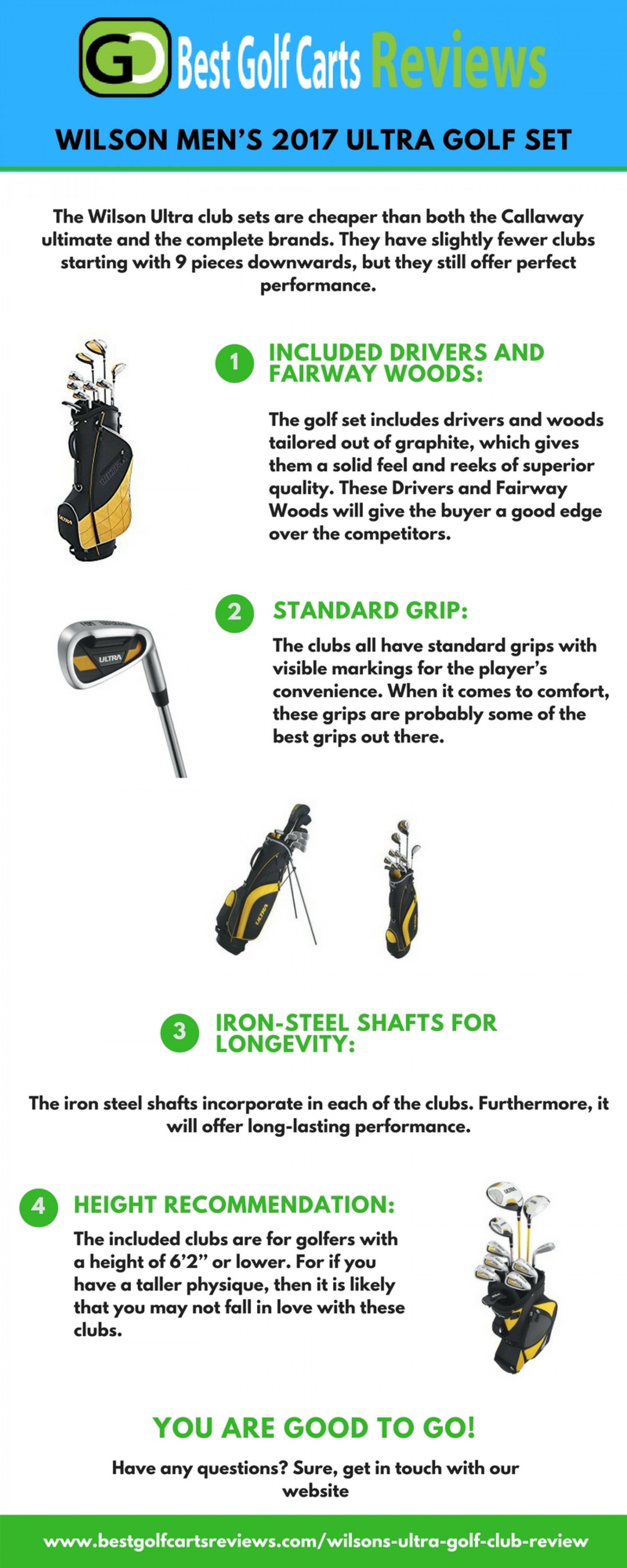 FAQs: 
For the convenience of the customer, we would like to answer a few simple questions about the product. It will help to clear out a few things.
Who should buy this golf set?
A. This golf set is perfect for beginners who are just getting started. For someone who is out of practice, this set will serve him fine as well.
Does the set come with Sand Wedges?
A. No. Sand Wedges come with the set.
Do the clubs offer superior forgiveness?
A. It depends on the user. For a beginner, it should do just fine. After gradual use, there should be some increase in the length and accuracy.
How tall would you have to be to use this set?
A. If you are 6'2'' or less than that, there is good news for you. But if you are taller than the recommended height, you should opt for other options.
What is the standard hand orientation?
A. The clubs are for right-handed users.
What type of flex can you expect?
A. You can expect regular flex from the golf clubs.
Does the bag come with carrying straps?
A. Yes, the bag does come with carrying straps.
What is the loft for the Pitching Wedge?
A. The Pitching Wedge has 46-48 degree loft.
What is the specification for the Driver?
A. It is a 460cc graphite driver featuring the new and improved "oversized design".
Is the carry bag durable? Does it come with a cover?
A. The carry bag is light and durable. But it does not come with a full cover.  Only the big clubs come with protective covers.
Video Review:
Our Verdict:
The Wilson's Ultra Golf Club review gives us an obvious picture of the product. The golf club has an aesthetically pleasing demeanor and is suitable for beginners. It features a set of lightweight clubs and has a handsome looking carry bag for safe travel.
The golf clubs are solid and lightweight for the most part. One can achieve a good amount of swing without putting much effort. The standard grips feel nice and do help to achieve a nice length. The inclusion of Sand Wedges would have been nice. It offers great accuracy and offers a great deal for the novice golfer who wants to become a pro shortly. Finally, I think you have got a proper picture of this from Wilson's Ultra Golf Club review.
The golf set caters to golfers who meet the standard specifications. For professionals or someone with a taller build, this set of clubs will not be of much help. For standard novices, this is a nice set of clubs to get started.
We hope that we have given you a fair amount of knowledge about the product and how to find them. Similarly, we have also pointed out the benefits that a novice can enjoy if he or she opts for a professional golf set.
Categorised in: Golf Clubs