Last updated on January 11th, 2018 at 09:10 am
Just about everyone knows how golf got its name, but if you practice a lot, you may become good enough that you won't have to curse as often. Besides, you can use golf GPS devices to help you improve your game. These are the devices which connect at least four orbiting satellites so that you get the most accurate data regarding location and distances. By reading various golf GPS reviews from experts and customers, you may get a fair idea as to which model will bring the most value for your money.
Best Golf GPS Comparison:
Types of GPS Device: 
In general, there are two main types of GPS devices for your golf game.
One is a simple handheld device, while another is designed to be worn like a wristwatch.
We're not considering GPS smartphone apps because they come with somewhat serious drawbacks. One reason is that some courses have restrictions regarding the use of apps, besides measuring distance which is allowed.
The golf apps are also not quite as accurate as the golf GPS devices, and they can also drain the phone battery very quickly. It's also true that some people can't just use common sense when using their smartphones on the course so that they can produce sounds while a player is in the middle of their swing.

Why Buy Golf GPS Devices?
There are many reasons why numerous players including pros have a true liking for these devices. They offer real benefits, and in the end, they help you play better. Here are some reasons why you really should consider getting one:
It offers quick and easy information. This is the main reason you get this kind of gadget because the things you don't know can blow up your golf score. At a glance, you can at least find out the distance to the hole and the front, center, and back of the green. Other types of info you can get include the distance of your shots, and the shape of the green.
It offers precise info. Maybe you're excellent at estimating distance just by sight alone. But these devices are invariably much more accurate than your guesstimates. In some cases, the accuracy is within 2 meters. When you're guessing, you're lucky when you're within 5 meters of your guess.
You're not hampered by blind spots. Sometimes the fairway curves or maybe a hill is between you and the flag. Trees may cover your vision. All these things don't matter since you're not using a laser rangefinder that requires line of sight.
You can pick the right golf club to use. This is the benefit of knowing the precise distance to your target location. Since you should have a fairly good idea of how far a ball will travel when you use your clubs, you're able to identify which is the correct club to use.
It speeds up the gameplay. Some studies think that on average you can play 10% faster with a device like this. You don't waste time guessing distances and picking clubs. You know things right away, so you can make decisions more quickly.
You become more confident. Feelings of anxiety and uncertainty are the enemy, and you can banish them away. It's easier to feel more confident when you're sure, especially about the distances and the club involved.
You can keep accurate records. You can input your scores in your golf GPS device, so you can accurately keep score afterward. Also, you can track your golf progress because you're able to know how far you're hitting with particular clubs. You know when you're improving, and you can identify which areas you still need to improve.
You become better. All these benefits translate to lower golf scores, and you become a better player eventually. That makes golf even more of a pleasure to play, doesn't it?
HANDHELD DEVICES
You can place a handheld device in your pocket or clip them to your belt, and sometimes they even come with straps so you can wear them like a wristwatch. They can range in size to something that's as small as a watch face or as big as a typical smartphone.
Many serious players prefer these devices because they can get a view of the hole from above. Even the more basic units can let you find the center of the green with your approach. Get one of the better models, and you can get lots of detailed maps for holes in many different courses.
With a device like this, you can get data even for blind spots, which you can't do with a laser rangefinder. You can also use this to upload your data and score into the cloud or to your computer.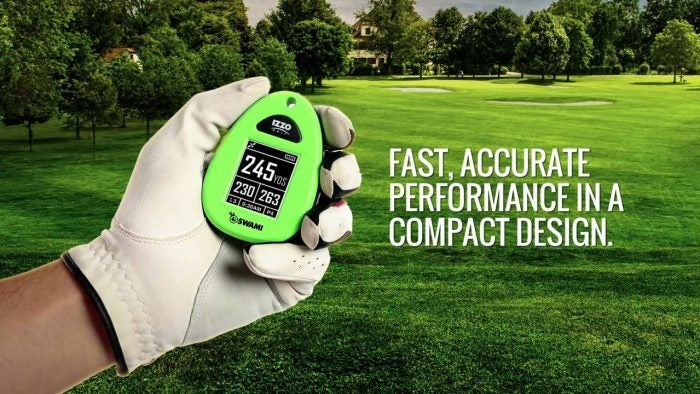 Golf GPS Reviews: Top of the market 2018
1. GolfBuddy Voice 2 Golf GPS/Rangefinder
GolfBuddy is an American brand, and it's based in California. There are plenty of great things about the brand:
This device is legal for tournament play.
There's the nice guarantee that you won't have to pay extra fees for anything. Updates for the software and the golf courses are free for your lifetime.
Also, all their units are preloaded with the info for more than 38,000 golf courses around the world.
Since this is meant for customers all over the world, it is preloaded with eight different languages, and you can get up to 11 languages in all. So even if you're not good in English, chances are this is still perfectly usable for you.
It's very small and light, and it's small enough that it comes with a wristband so you can wear it like a watch. There's also a belt clip or a retractable clip you can attach to your belt or bag.
You get the hole number and part number, the distance to the front, center, and back of the green, the distance of your shots, the shape of the green, left or right green info.
It offers the free GolfBuddy Manager program with male or female voice options.
The battery can last for 14 hours, which may be enough for two rounds of golf.
Just about every online Golf GPS review on this GolfBuddy give it a perfect rating, and it's very hard to find any criticism. It gives a lot of value, especially since it's so affordable. Perhaps the worst thing about this is that the voice may not be easy to understand if you clip the device to your golf cap.
2. Garmin Approach G3 Golf GPS USA & Canada
This resembles a smartphone, and it measures 5.5 x 5.5 x 3 inches with a 2.6-inch screen and a weight of 5.25 ounces.
The screen is very readable in sunlight.
It can keep score for up to 4 players.
It adds maps to the more than 12,000 golf courses in its database, without any subscription fees.
As you move through the golf course, the device constantly updates your distance to the target.
You can manually position the pin.
It offers highly accurate and detailed CourseView maps.
It's waterproof so that you won't mind a slight drizzle or an accidental slip into a water hazard.
The battery lasts for about 15 hours.
The main drawback here is that these golf courses are all located in either the US or Canada. So if you're vacationing somewhere else, you're out of luck.

Price Disclaimer
3. Garmin Approach G8 Golf Course GPS
This is also shaped like a smartphone, but it's much more advanced than the G3 or the G6.
The distances you get can be adjusted for downhill or uphill shots.
The screen is bigger, so it's much easier to read. Since plenty of older people with bad eyesight love to play golf, it also has a "big numbers" node, so you get a bigger font size for the distance info.
It remembers the distances you hit for each club, so it can recommend the club you ought to use for your next shot.
It has blind spot assistance, so it points you in the right direction when you can't see the pin.
You can get your texts, emails, and alerts from your iPhone (4S or later).
You don't have to pay additional fees for automatic Wi-Fi course updates.
Here, the main problem is that it can be too helpful. For tournament play, you will need to turn off some functions before you can bring this with you. You better check with the tournament officials first.
4. Game Golf Digital Shot Tracking System
This is marketed as the "world's first automatic shot tracking system," and it can be downright helpful in analyzing your complete game. It measures just 2.6 x 1.1 x 2.6 inches and weighs 3.2 ounces.
It offers at least 32,000 golf courses in its database.
It records a wide variety of information about your game using GPS. It records the distances you get for each club you use, it notes your fairway and green accuracy, and it remembers how many putts per hole you take. It even notes your shot dispersion and tendencies.
All these stats can tell you which clubs you need to use for various distances, and you can correct various errant tendencies.
You can use it to share your posted rounds online. You can see how you stack out against others, and you can also benchmark to the index you want.
You can even use it to compete virtually with other players all over the world.
The customer support is terrific, although it's by email and not over the phone.
This is a rather new company, so there are still several issues that need improvement. The accuracy of the maps is perhaps the most notable problem, and while it tracks your put, it doesn't know where the pin is.
5. IZZO Swami 4000+ Golf GPS
This is the next-gen version of its popular Swami 4000.
Aside from the usual f/c/b distances offered, you can also get the layup and carry distances to doglegs and hazards.
It comes with more than 30,000 golf courses around the world, and you can check the library at http://www.Swamigps.Com/course-library to see if your favorite courses are included. You can also edit the maps your download.
When you start it up, it automatically recognizes the golf course you're playing.
The battery lasts from 10 to 12 hours.
It's durable and waterproof.
This may not offer enough battery time to use for two rounds, and it also doesn't have the scorecard function.
Golf Watch Reviews
The main advantage of this device is that you won't have to dig through your pocket to get your info. A glance at your golf GPS wristwatch will give you info regarding the distance to the front, the center, and the back of the green. You can get info about hazards and doglegs too. Some watches can even pair with a smartphone so that you can check your text and email messages through the watch.
1. Garmin Approach S2 GPS Golf Watch with Worldwide Courses
This is perhaps the most popular golf GPS device on Amazon. But that shouldn't be a surprise, as it's very affordable and you get a lot of benefits:
You can play in several courses around the world, and chances are your golf course is included in its more than 30,000 courses.
Course updates are free for your lifetime.
It's very accurate, and it gives you precise yardages for the front, back, and center of the green.
The GPS receiver is very sensitive, so the tracking accuracy doesn't suffer even if you're under the trees.
It records the distances of your shots, and it even has an odometer.
It also records a digital scorecard, and the USB cable lets you connect to your PC (or any device with a USB port) to upload your scorecard.
It comes in 5 attractive colors; it is very light, and it's even waterproof up to 10 meters underwater.
It does have a lot of features, so it may take you some time to learn them all.
2. Bushnell Neo Ion Golf GPS Watch
This is legal for tournament play, so you don't have to worry.
It automatically recognizes the course you're playing, and it advances through the holes automatically.
It's preloaded with more than 35,000 golf courses.
It offers hazard and layup distances (up to 4 per hole).
It can last for many hours, and some say it can last for three rounds of golf.
Despite the number of golf courses in the database, these are all in 30 selected countries. You'll need to register when you want to add golf courses to your watch.
3. Garmin Approach S20 Golf Watch
This is supposedly a GPS golf watch which can double as an everyday watch. That's because it can also track your activities, including some steps taken, the distance you've walked, and the calories you've burned. It even tracks how many hours you've been asleep.
It offers more than 40,000 golf courses with automatic map updates.
It measures your shots and records them. It also tracks the fairways you hit, the greens you reach in regulation, and the number of putts per round.
It pairs with the Garmin TruSwing sensor which can help you improve your swing.
The battery life can last for more than two rounds of golf.
It does everything as advertised, but it may not look good enough for an everyday watch. In fact, if you're used to good-looking automatic watches this thing is downright ugly.
Buying Tips: Factors to Consider and Features to Look For
Whether you prefer a golf GPS wristwatch or a handheld is more to your liking, you need to think about the following considerations before making your choice:
Is it legal? You better make sure that you can use the device for your golf course, at the very least. This is especially important if you wish to use them for a tournament.
How much does it cost? Only fat cat golf players are unconcerned about the cost of these devices. Fortunately, they're quite affordable compared to how much other golf paraphernalia can cost. In general, the price ranges from about $150 (or even much less ) to more than $400.
Are there any additional fees? Aside from the initial cost, you may also be asked to pay fees for other services. There may be a charge for downloads or fees for the subscription to website services. Even software or golf course updates may come at a cost.
Does it contain info regarding your favorite golf courses? These devices often come with information covering thousands of golf courses. In general, these things offer data on at least 10,000 golf courses. There are even some which offer data for more than 35,000 golf courses, but they're no good if your local golf course isn't one of them. On the other hand, if you like to play golf when you're on vacation, then with more golf courses covered you're more likely to find info on the golf course you encounter when you go abroad.
How accurate is the hole information? You may get data for your golf courses, but the results can be terrible (even catastrophic) when the data is outdated or just plain wrong. At the very least, the distances should be precise.

Are the distances between certain points of the layup?

Are the bunkers and obstacles displayed for the hole you're playing?

Is it easy (or even possible) to manually add new bunkers and water hazards to a currently existing map of a golf course?
We can't stress enough the importance of this factor, so read various reviews to confirm that the data you will get will be accurate.
How easy is it to use? Even if the data you get will be accurate, the device isn't practical if it's too convoluted or complicated to use. It can be annoying if the screen is too small or the numbers on the screen are tiny. It's also possible you can get a screen that doesn't do well in bright sunlight just like some laptops.
Also, it shouldn't take more than a couple of buttons to get the particular info you want. If you have to press ten different buttons for the info, that can get aggravating very quickly, and the feeling of frustration you get can mess up your score.
Finally, it should be small and light enough that it's not bothersome to bring with you. You should feel comfortable when it's with you. If it's a watch that's itchy on your wrist or a handheld that presses on you in your pocket, then you may feel uneasy, and that can damage your score.
How well does the battery perform? It doesn't matter how many hours you have to spend to get a full charge on your golf GPS battery. What matters a whole lot more is the number of hours you get when you get that full charge. This is the reason why you shouldn't use golf apps for this purpose—using the GPS function can drain the smartphone battery very quickly.
At the very least, you should have enough time to play 18 rounds of golf plus sometimes rest before you upload the data to your computer. But many folks like to play two rounds. If you're one of them, then you need a device that can hold up for many hours of play. Or else you can buy spare batteries and find out if you can put in the new batteries in the unit.
How durable is it? If you wish to buy an older model, you can read updated customer reviews on sites like Amazon, where lots of people report on how well their gadgets perform through the years. You can find out if they can last longer, and if they're shockproof or water resistant. For newer models, you should check the warranty coverage although it doesn't hurt if you also check the reviews for company's older models to see if they lasted long. And you may also get to see if the manufacturer's customer support people are helpful.
Are there additional features you may like? Many of these things are compatible with PCs and laptops so that you can upload your scores and information online or to a golf tracking program. Some of these devices also have special features that make them different from their competitors. Some watches may have an odometer function, or they can connect to your smartphone so you can see email and text messages. Some handheld devices may also offer weather information that isn't normally illegal for tournament play. Just make sure that if you're playing a tournament, the additional features on these devices don't make them ineligible for use.
Final Verdict
As you can see, you do have a lot of excellent options when it comes to golf-specific GPS devices. Just make sure you read a lot of golf GPS reviews from customers, so you know what you're getting. But in general, if you pick from any of these recommended items, you're getting a lot of value for your money, and your game will get better!
Check Out Golf GPS Review Video

Summary
Reviewer
Review Date
Reviewed Item
Author Rating