New Clicgear Umbrella Angle Adjuster
Product Name:
Clicgear Push Cart Adjustable Umbrella Holder
Brand:
ProActive
Rating:
ASIN (Product Code):
B01C1WIB8M
Color:
Black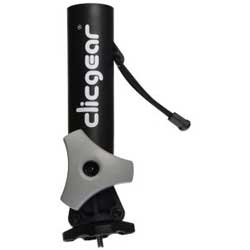 Best Price In Amazon
Last updated on December 13th, 2019 at 10:02 pm
Your cart's umbrella giving you trouble?
Learn how the Clicgear Umbrella Angle Adjuster can help.
The Clicgear Umbrella Angle Adjuster was designed to make it easy for you to adjust the direction and angle of your cart's umbrella. Golf push carts have a built-in umbrella holder that's true, but often they don't work properly to the point it gets frustrating. With this adjuster, however, it won't be an issue anymore as it's going to set your umbrella just the way you want it.
Clicgear Umbrella Angle Adjuster`s Features and Benefits
The first thing that should be pointed is that this umbrella adjuster is very light and weighs just 6.7 ounces, something that many golfers will appreciate since other adjusters are much larger. In addition, this adjuster is fully compatible with all Sun Mountain and Clicgear brand push carts.
It's a known fact that some umbrella adjusters only work with specific types of models, even if they're made by the same manufacturer, so it's good to know this one works with all Clicgear and Sun Mountain carts.
This umbrella adjuster is versatile, but it's also easy to use: right off you're going to see a large knob for adjusting, and it works the same way no matter which of the supported brands you are using.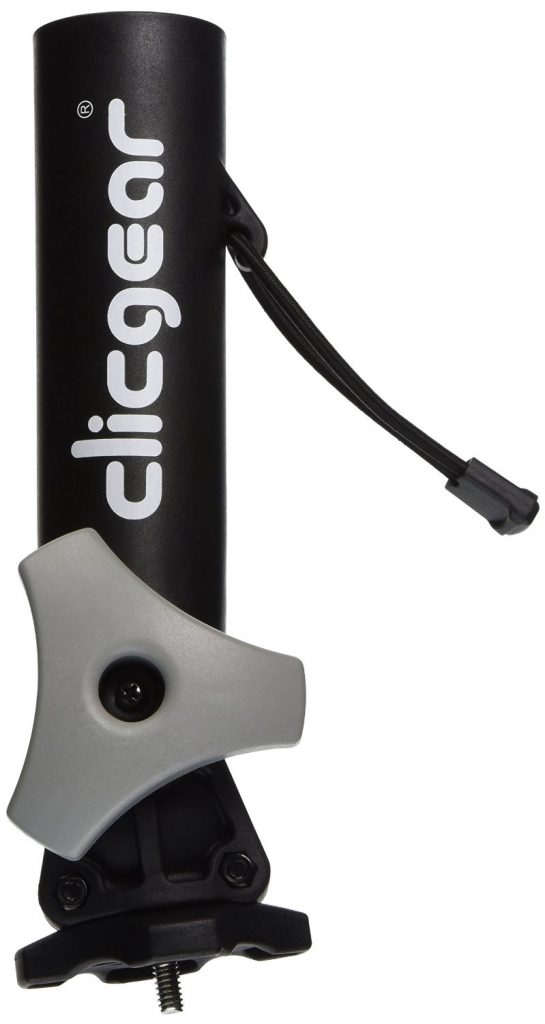 Usage and Application
The Clicgear Umbrella Angle Adjuster is easy to use: all you need to do is mount it onto the handle of your Clicgear or Sun Mountain golf push cart, and that's it. As the name makes clear, the Adjuster allows you to raise the umbrella height by up to 3 inches. Aside from increasing the height, you can now move an umbrella right or left, backward or forwards, underscoring just how versatile it can be.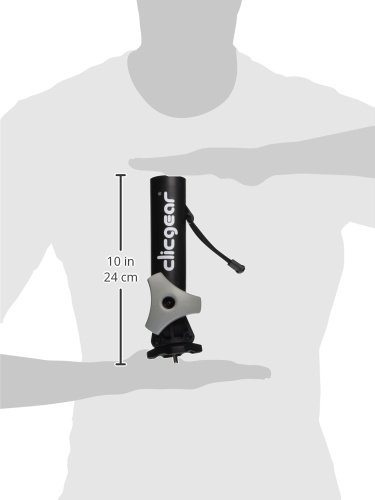 As was pointed out earlier, this umbrella adjuster works with any Clicgear or Sun Mountain golf push cart you own. But it can do a lot more than that since the adjuster is compatible with all umbrellas with a handle diameter that measures up to 1 1/2-inches. This covers practically all golf umbrellas can be used with the adjuster.
There's another thing that should be pointed out here, and it's that this is affordable. Just go to Amazon and you'll see that the price is very competitive.
There are also some people wondering if this umbrella adjuster will work with wheelchairs, and the answer is it will if you have the acceptance base. Some users are also still confused on whether this can be used with all kinds of umbrellas, and the answer is as long as the umbrella diameter doesn't exceed 1.5 inches, the adjuster will work.
Why You Need This Umbrella Adjuster
There are many reasons, but for many, it all comes down to convenience and comfort. If you're tall, there's a good chance you're going to bump your head because the umbrella is too weak. If you don't have an adjuster there's nothing much you can do about it, so it helps to have this accessory.
Another thing worth pointing out is that the Clicgear Umbrella Angle Adjuster offers no limits when it comes to adjustments; all you have to move your umbrella around until it's just the right location and provides sufficient head room. And if you're worried about durability there's no need to be because the adjuster is made from fiber nylon that's been reinforced, so this should last a while.
There's also the fact that reviews for this product are very positive, and the majority have commented how durable it is. Even when it's raining, you will be able to use it without any problems, and as many golfers have pointed out, it fits in properly and works better than the default built in the cart.
Pros
Durable
Affordable
Easy to use
Raises the umbrella nicely
Cons
It wobbles if not properly set
It must be utilized with your cart's elastic band, or it will fall off
Conclusion
There are some things that we take for granted such as the umbrella holder on the golf push carts, and only when it doesn't work the way we want do we take notice. With this one, however, it just makes golfing much more enjoyable. When it comes to these kinds of accessories, your best option is the Clicgear Umbrella Angle Adjuster, and we highly recommend it. Buy at Amazon now!
Clicgear Push Cart Adjustable Umbrella Holder Price