Wilson ultra golf clubs vs Callaway strata-Good for 2018
Last updated on August 20th, 2018 at 08:06 pm
Golf as a game has become very popular with many young people joining the league. Golf is a good and healthy game for all parties involved. It also helps business people to build up people networking. let's start review Wilson ultra golf clubs vs Callaway strata.
For beginners, making a good choice of the right equipment can be difficult. There is quite a large offering of different varieties from all kinds of brand names. Different brands and models will have different designs and technologies.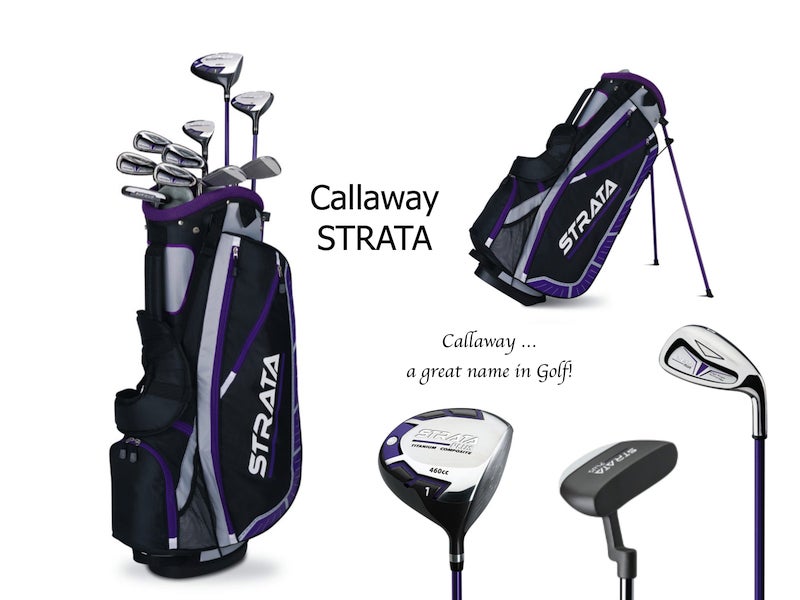 The following comparison is between two brands with offerings in the Amazon site. The two: Wilson Ultra-golf and Callaway Strata club sets have been rated highly by users. It is important to explain some terms before we dwell on the comparison. check out TaylorMade SLDR and the Callaway Big Bertha.
Woods– Clubs made of wood and with long shaft plus a large head, used for long distance propelling of the ball. They are numbered from no.one to higher numbers depending on the size of their loft. Woods with higher lofts and numbers than that of the driver are called fairway woods.
IRONS– Clubs with a shorter shaft plus a metal head with an angle flat face having grooves scoring. Made of iron and used for a number of shots from any place of the field.
HYBRIDS– It is a bred between irons and woods, used as an alternative to low-lofted irons.
PUTTERS– These are balanced and low lofted clubs for rolling the ball alongside the greens into your hole. check the list under 100$
Wilson Ultra Golf clubs vs Callaway Strata Comparison
1). Callaway Strata
An 18-piece set which features 12 clubs with a Driver, 4H, 3W, 5W, 5H, SW, 6i-PW, a putter, bag, and head-covers.
We have Strata Ultimate set for men and women and an alternative and more affordable model-the Strata Complete for both sexes. The complete has fewer pieces than the ultimate model. here is the best Callaway Strata golf set.
2). Strata ultimate 18-piece/men's complete
– The set is ideal for combining control, feel and distance. It features a driver of full titanium to offer a large and sweet spot. The fair-wood is built to give you long and high-flying shots. It is built of hybrid material to give you effective handling of various shots. The iron wedges built with a high flight technology makes your set have control and ensure your shot covers required distances. The putter is for distance control and accuracy to ensure your puts sink in. The stand bag is made light, durable, cool looking, has easy pockets, tee holders and a nice back strap for carrying. view price on Amazon.

3). Strata ultimate 16-piece/ladies complete
– The club set for women has 16 pieces with a titanium driver for large sweet spot plus forgiveness. It is made of 3 fairway wood for high flying and long shots. It features hybrids of higher confidence when handling various shots. Iron and wedges for distance, control, and forgiveness. The putter face milling is well designed to offer distance control and accuracy for sinking more putts. A stand with more beautiful and cool designs, a tee holder and a comfortable back strap. view price on Amazon.
4). Strata men's complete/12-piece
– The 12 piece set with a 460cc forged-driver to give a large sweet spot, more forgiveness to aid in ripping off the tee. It is made of a 3 fairway wood and has a head with an aerodynamic head shape inclination, to give high flying and long shots. It is made of a hybrid material, iron wedges for control and forgiveness. The putter which is a mallet with a T-styled alignment gives you accuracy. The stand bag is lightweight with 5 pockets, an added cooler pocket, a back strap and a rain hood. view price on Amazon.
5). Strata Women's Complete/11-Piece-
The set is for women who prefer a cool looking product with maximum distance performance. This is an 11 piece set, featuring a driver that gives extra forgiveness and has a super light shaft of graphite for faster swings. The set is made of fairway wood for forgiveness and a light shaft for high shots. The material is hybrid to allow higher confidence when handling various shots. The iron wedges offer control and forgiveness, while the mallet putter with a T-style design will give you high accuracy. It has a beautiful bag that is light, durable, with 5 pockets, rain hood, an extra cooler pocket and a backpack strap system. check the latest price.

Wilson Ultra golf clubs
The Wilson Ultra club sets are cheaper than both the Callaway ultimate and the complete brands. They have slightly fewer clubs starting with 9 pieces downwards, but they still offer perfect performance.
6). Wilson Men's 2015/ Ultra Complete
– They come with a simple makeup set with fairway woods and a graphite driver of high quality and durable. They offer accuracy and high launch as the wood has a natural inclination. The clubs offer a standard grip, clear markings to help the player hold them in the right place. The shaft is made of iron steel to be very hard and unbreakable. The putter is built with a heal toe weighed-alignment to give more accuracy and control. The clubs are made to be suitable for any height from 6 feet and 2 inches downwards. The sets come with a stylish looking yellow bag with extra storage for any additional things you want to carry. view the latest price.
7). Wilson Golf Women's/2017 Ultra-
These sets are built for ladies who would like to deliver swing speeds with a lower-center of gravity to improve launch. The large and sweet spotted irons have perimeter weighting to enhance performance when on and off the center hits. It has light components and a flexible shaft. The beautiful and light cart bag has 2 lifting handles and a number of pockets. see a special review of Wilson's 2017 Ultra Men's Complete Golf Set.
Conclusion
In terms of performance and reliability, both Callaway and Wilson Ultra are good sets. The Callaway sets have more facilities, the highest being the 18 piece, while Wilson starts at 9 pieces. The prices are the determining factor in making your choice.
Categorised in: Golf Clubs