The Best Putting Aids on the Market
Last updated on August 21st, 2018 at 04:22 pm
Perfecting your golf game and making the sport easier isn't just a matter of finding the best golf clubs for beginners or even finding the most high-tech options like a good golf GPS. In fact, it's your short game that's going to really deliver the most bang for your buck. This is why the best putting aids for your game are so important; they'll bring you in under par and help you to impress all of your golf buddies. In this guide, we're going to help you find the best aids for your putting that'll really deliver some of the best golf game satisfaction available.
Best Putting Aids Comparison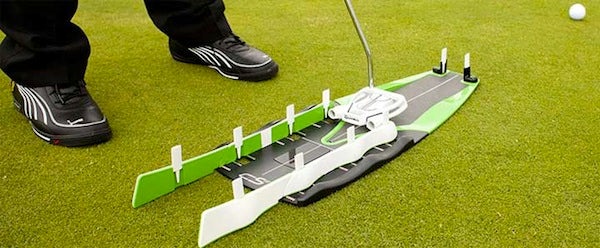 Putting Aids Reviews
Best Putting Practice Aids Reviews
Sometimes, you want to practice your putt on the green. While this can be relatively easy, it's nice to have a convenient and compact putting aid that can help you ensure that your putts are online and straight. This product, which comes from Pelz, is designed to do just that.
To use the product, you simply place it down on the green; the product actually has a cleat at its base that allows the aid to be stable. Once it's firmly planted, you place two marbles at the front of the product in order to form a gate. Finally, line up your golf ball and use the white line and the gates to achieve a perfectly precise putt.
This product ensures that you strike your puts squarely and that your putts are very precise and straight. The product itself is very simple and easy to use, which is perfect for anyone that's hitting the green solo in order to practice their swings.
With this tool, you'll eventually notice that both your ability to read the green and putt more precisely will have improved greatly. In fact, even if you're a little more experienced, this is also a great tool to warm up before the round.
Pros
This product comes from Dave Pelz, who is one of the top golf coaches in the world.
It's a very simple device; in fact, you can toss it in your golf bag.
This is a product for just about any golf skill level.
If you're having issues with alignment, this is a great tool for your game.
Cons
It's something of a no-frills product; it'll boost your alignment and ability to read the green but nothing else.
The box features a specially marked golf ball, but it's not included.
One of the best features of this putting trainer is the unique parabolic design that allows it to reject imperfect putts and accept the ones that can improve your overall game. How does it work? Well, to start, the unique curvature of the product is designed to either send your ball off the aid, send it back at your putter when you've hit a good putt, or land it in a micro-target positioned in the device's center when your putt is perfect.
This is an excellent system that effectively rewards your time and effort so that you can visibly notice an improvement. The product itself can be used on the course, in your backyard, or even in the home/office. Additionally, when you hit a good putt and the ball is returned to you, it will travel the precise distance that it would have traveled had you missed the hole. This feature provides some excellent visual feedback so that you can boost your game significantly.
When it comes to building quality, the putout putt aid is made from elastomer and translucent polycarbonate so that it has a very durable, course-ready design that's also attractive. When you're done with your game/practice, you can simply fold it up and toss it in your bag. see more details here.
Pros
It is great for building your putting skills through repetition.
When your putt is bad, it fully rejects the putt by sending it off the side.
When you've hit that "perfect putt," the ball lands in a micro-target.
It's foldable so that you can store it easily.
Cons
Due to its translucent design, this putting aid can be hard to see.
For a complete putting aid experience, this product, which comes from SKLZ, is a good option. The first thing that you might notice is that the putting aid is a full nine feet in length, which means that this is a purely indoor product. To use this putting aid, set it down on the preferred surface and stand at the farthest end and putting towards the raised hole at the other end.
The raised surface at the hole-end is very convenient. Once you've put towards this hole, the ramp serves as a ball return mechanism that'll let you practice your next putt with little downtime. Additionally, like the surfaces of many professional-grade putting aids, this product has a true-roll surface that will feel course-perfect.
To further assist your putting performance, the putting aid also includes alignment guides so that your putts can be online all the way up to the hole. While this is definitely an indoor putting aid, this doesn't mean that it's not portable. In fact, the mat itself is rollable so that you can simply place it in a large bag and take it to a friend's for some cooperative putting practice. go to here and see more details.
Pros
The true-roll surface makes putting smoothly a very easy process.
When you putt into the hole, the ball is returned via a ball return tube.
When you don't putt with enough force, the upslope at the top will return the ball to you quickly.
The alignment guides at three, five, and seven feet really can help you adapt your game to different putting ranges.
Cons
Sometimes the mat won't lay flat.
Another putting green, the Par Three from Putt-A-Bout is a great option for those that need a versatile putting aid that can really help them add accuracy to their game. First, this product is excellent for its portability; the putting aid fully folds up so that you can stuff it in a bag and take it to the office, a friend's house, or even outside. When you unfold it, the product has a lay flat technology that'll ensure that no folds appear that you'll need to roll out.
Since this product is a simple one-piece putting aid, you can unroll it and start practicing out of the box. The product gradually thickens from standing point to the end, which means that your golf ball can rest within the various recessed holes at the end of the product. The turf on the product emulates the turf that you'd find at just about any golf course, which means that your ball will have no problem gliding realistically after your putt.
When you're not so accurate, the product will catch your missed shots via built-in sand trap cutouts that are positioned on the sides of the putting aid. more details in this video.
Pros
It rolls down very compactly so that you can carry it with you.
The far end is thick so that you can rest assured that the product will hold the balls.
The entire product is nine feet long, which means that you can work on your farthest putts.
Cons
The end of the three holes and the simulated sand traps is a bit thick, which means that you can stumble over this section easily.
When you really want to work on your putting range and accuracy, this product, which is also produced by Putt-A-Bout, provides 11 feet of putting training. In fact, this product even has a wider, 36-inch sizing that is perfect for really immersing yourself in the feeling of being on a putting green. Like the previous product, this matt also features a lay-flat design that will virtually eliminate the appearance of wrinkles when you set it flat on your intended practice area.
The product is also very portable; unlike some of the other products of its type, this putting aid is completely flat, which means that you can simply roll it up and take it where you want to play. The mat itself can be used anywhere – from the office to the green.
In order to work on your putt, the matt comes with three adjustable golf ball catchers; simply aim the ball towards these areas so that you can work on your accuracy. The catchers are curved so that most shots will cause the golf ball to rebound back towards you so that there's little downtime. see more information here.
Pros
This product is almost completely flat.
The turf is perfect for emulating the look and feel of course turf.
The balls rebound back quickly.
Cons
If you miss the target, there's no bunker to make ball return easy.
Final Thoughts
When it's time to work on your putt, only the best products will do the job. Each of the best putting aids that we've covered in this guide will add accuracy to your short game, so take a look and see which one works best for your needs.
Categorised in: Putting Aids