How to Put Your Golf Bag on a Push Cart
Last updated on July 12th, 2017 at 06:08 am
How to Put Your Golf Bag on a Push Cart in 5 Easy Steps (And Facts about Modern Golf Push Carts That You Didn't Know)
Introduction
There are issues buzzing around the greens lately. It concerns veteran and amateur golfers alike, who are arguing whether to ride, carry, or push their golf bags. Some of them who have health issues want to use electric golf carts to ride into and carry them and their bags around the golf course.
While others who are not so young enough, want to hire a caddie. The majority of the golfers prefer purchasing, or for those who have already has one, to use push carts, thus eliminating the need for caddies.
Golf push carts are the newest craze to swept the golfing world. While it is much cheaper than an electric golf cart and better than carrying your bag, golf push carts are safer and easier to handle. In this article, we will teach you how to put your golf bag into the pushcart in just 5 easy and quick steps.
We will also share with you some of our thoughts about this great invention that revolutionized the world of golf. Plus, we will give you some tips on the best golf push carts in the market today.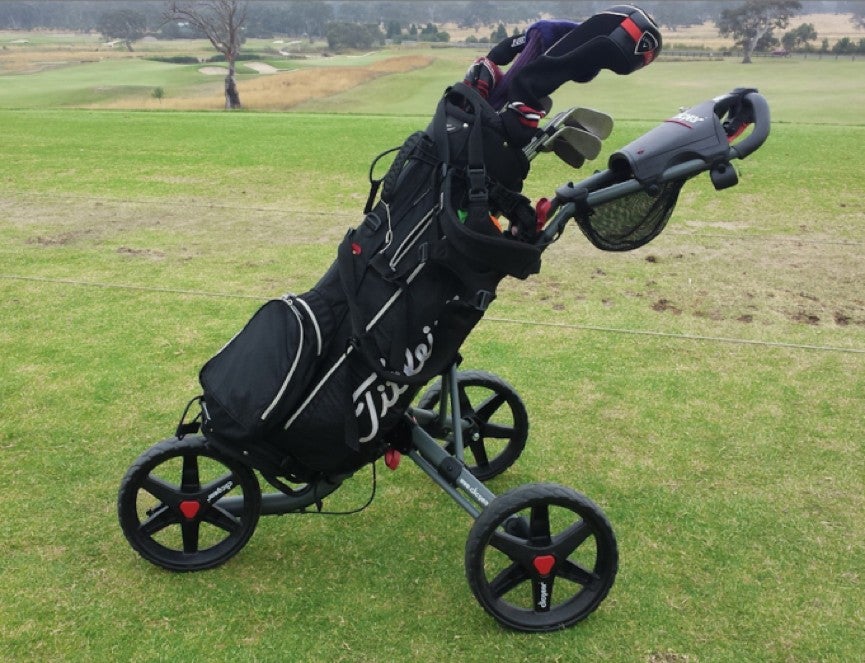 What is a golf push cart?
The current models of golf pushcarts are more sophisticated than their predecessors. Golf push cart is typically a 3-wheel device (some models come with 4 wheels) that is designed to carry your golf bag while you push it. It is basically made from powder-coated aluminum tubing that does not rust and corrodes and is lightweight.
Several models have a full console that could hold golf balls, pen, pencil, and even tees. More advanced designs have durable storage netting (for apparel, towel, shirt, etc.), umbrella mount, and flexible cup or bottle holders. Some have tabs for other golf accessories or the owner's personal effects.
As the name implies, the push cart is movable by pushing and has no electrical components. The golf push cart can also be folded for easy transport and portability.
What are the benefits of using a golf pushcart?
A push cart is conducive for golfers who want light exercise while at the golf course. As most doctors' advice, when you are relying on a round of golf as your exercise, riding a golf cart is not the way to go. Walking without a heavy baggage on your shoulder is just right for golfers who have back, shoulder, and neck pains.
Walking several holes pushing your golf bags with a push cart up and down sloping terrain allows a really great workout compared to riding a golf cart. It is also quite convenient than carrying your heavy golf bag.
Compared to golf push carts of decades ago, the modern push carts are more efficient, sleek, and lighter. It is also easy to maintain, easier to push, more compact, untippable, foldable, and packed with more storage.
What are the functional features of the modern golf pushcarts?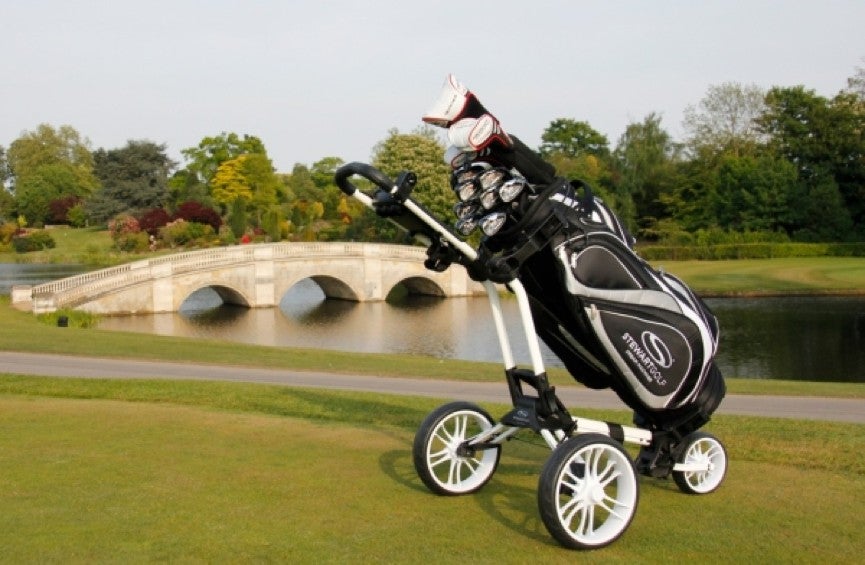 Most of the pushcarts available on the market today have the following features that make golf bag pushing more convenient than ever.
The brake systems allow the push cart to be parked without rolling away, especially on a hill, using hand or foot brakes (depending on brand). Recent design minimizes wear and damage to the cable by providing new cable anchor pivot assembly.
Maintenance-free airless wheels
The wheels of the modern push carts are airless and do not get flat. The hub is also strong and rigid while the wheels do not slip or damage the grass. The wheels are designed to roll on the grass with ease. The front wheel/s swivels for easy turning.
The slide-to-close system allows the push cart to be opened and closed easily and comfortably without a hitch.
With easy-clip bag straps
The built-in straps of pushcarts are designed for better and easy adjustment whatever the dimension or size of the bag is. The straps make the golf bag more secure even if you run across the golf course.
Increased cargo net storage
Some pushcart manufacturers increased the pushcart capacity by more than 80% compared to models of 5 years ago. The increase in capacity provides more room for the golfers to secure their equipment.
Most parts of the current breed of push carts are independent of each other and could be easily replaceable when broken. Like the umbrella holder or the cup holder, replacement parts for these are readily available on Amazon. The clever thing is, you need not replace the whole push cart, just the broken ones.
What you will need
Golf push cart
Empty golf bag
This is what you are going to do to put the bag into the push cart
Unfold the push cart by releasing the two handles.
Next, make sure that the long side is away from you while unfolding.
Put one foot on the front wheel, lift the front handle and push the two back wheels out. Wait for the click. Then lock the middle part of the cart's lever. Push the button on the front wheel and pull it up. Then lock its lever.
The push cart is now unfolded, you can put your golf bag (must be empty) by strapping its bottom and upper straps. Make sure that the bag is fully secured.
You can now put your golf equipment and other accessories to the golf bag and into the cart's storage while it is fully secure on the push cart.
Pro Tips
Ø  There are various golf push carts available on Amazon, these two are the most sought-after both by amateur and professional golfers: Clicgear Model 3.5+ Golf Push Cart CaddyTek EZ-Fold 3 Wheel Golf Push Cart (from Clicgear) or the 4-wheeler Bag Boy Quad XL Golf Cart (from Bag Boy), this one has a nice rangefinder holder. These two brands currently lead the market, might as well try one of them and find out why.
Ø For broken parts or additional accessories like a cup holder, umbrella holder, ball clip, golf bag rain cover, and anything you want to add to your push cart, look for Clicgear products on Amazon.
Conclusion
Did you enjoy this tutorial? Putting your golf bag into the pushcart is really quite easy. You only need 5 simple steps to do it. Using a push cart also makes you more energetic than riding a golf cart while you play a round of golf.
Also, pushing your golf bag is a lot easier than carrying it around, and you don't need to hire a caddie anymore. You can still have a mild workout while you push your cart, a very pleasant situation, indeed!
What do you think about this article? Please like and share this article and send us your comments, we are happy to answer your queries.
References:
Categorised in: Tips