Best Golf Clubs for Beginners – Top 10 List (updated)
Last updated on April 14th, 2018 at 02:18 pm
If you are just getting started in golf, and you'd like to be the next Jack Nicklaus, then one of the first things you need to invest in is a set of golf clubs. As you may know very well by now, the golf club is that very same tool used in hitting the golf ball.
But you just don't go to a golf store and purchase the very first set of golf clubs you see.  With the numerous types and models available, you will be overwhelmed. Continuing reading this article as I will help you shop for the best golf clubs for beginners.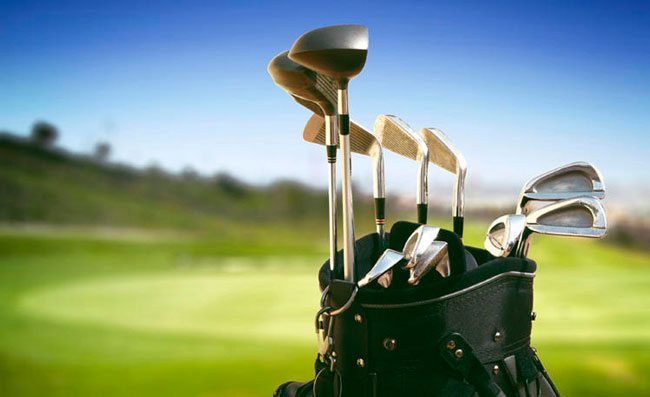 Comparison of Golf Clubs for Beginners:
Video Reviews for Golf Clubs for Beginners
How to Choose Best Golf Clubs for Beginners Men
Forgiveness
In golf, forgiveness means that the design and construction of the golf club can minimize effects of bad swings and poor contact with the golf club. We say that a golf club is very forgiving if it has design elements that "forgive" the golfer for his mistakes. Simply put it, a forgiving golf club can make bad shots a little less bad.
For starters, I recommend getting oversized clubs. Generally speaking, there's a lower chance of mis-hit when a newbie golfer uses oversized clubs with large sweet spots.  A sweet spot is that part on the club face where the ball is most effectively hit.
Budget
Just like in buying other golfing gear, you'll have to shell out a significant amount of money for a set of the golf club. Thus you have to determine how much you are willing to spend for your first golf club set. In most instances, the budget often determines the quality of golf club set that neophyte players can acquire.
But here's a friendly reminder—I don't recommend spending a lot of money on a beginner's golf club set.  The reason for this is that in case you give up on the sport down the line, you won't regret spending too much money on a golf club set.
Types of Golf Clubs
In buying a starter golf club set, you should look for the set of the following clubs–  irons, wedges, hybrid, putters, and fairway woods.
Irons are the golf clubs you use if you are around 200 yards from the green.  It makes up most of the golf clubs and comes in different types (3,4,5,6, 7, 8, and 9).
Woods are the golf clubs that you use to make long shots. Wedges, on the other hand, are those clubs you need to make a certain shot.  Hybrids, meanwhile, give you the best of both worlds, combining the qualities of an iron and a wood club.
Number of Clubs
The maximum number of clubs in a bags allowed by the USGA is 14 per player.  A 14-piece golf club set often consists of a driver, a couple of fairway woods, a hybrid, seven irons, two wedges, and a putter.
But since you're just starting to hone your game, there's no need to get a club set with 14 clubs. You can start with a golf club set with 12 clubs.
Other Considerations Best Golf Clubs for Beginners:
Used or new clubs— it's not a bad idea to look for second-hand golf clubs if you are on a tight budget.
Your goals—if you're determined to be an excellent golf player, then you might have to invest in more resources or money in the search for the perfect clubs. But if you're just looking to play non-competitive golf, then you don't have to spend a lot on a club set.
Carry-on bag—find a set with a carry-on bag that is sturdy and thus would last a long time. You must also get one with multiple compartments for storing and organizing the golf clubs
Callaway Men's Strata Complete Golf Club Set with Bag
This 12-piece golf club set features nine clubs with two head covers and a bag. It is well designed and oriented for right handed players. It has quality woods, hybrids, wedges, and a putter. The durable stand bag is a bonus, allowing easier transport and storage of the clubs.
Its driver and three kinds of wood have bigger sweet spots compared to standard models, making them very ideal for newbie golfers. The putter boasts of a mallet with t-style alignment designed to give you better accuracy. It is also very lightweight.
For some people, though, the putter is very much like a mini golf putter. Durability is also questionable, with some users saying that their clubs had its heads snap off after a few days of use.
Wilson Sporting Goods Ultra Complete Package Golf Set
This is another golf club package set that is ideal for beginners as well as intermediate players. It has a driver, four hybrids, 3 Fairway Irons, a modern putter, and Irons 5-PW. All the clubs in this complete package golf set have a standard grip. Many of those who have used it say they are very comfortable to hold.
The shafts are made of true temper iron steel. You will have peace of mind knowing that the clubs you bring to the golf course won't likely break after a few uses. The putter is also ideal for beginners as it provides superior control and accuracy.
This is a highly recommended golf set for the non-competitive golfer, too bad it doesn't have a sand wedge included.
 Pinemeadow PRE Men's 16-Piece Complete Golf Set
This golf club set features a titanium-enhanced driver, a 21degree hybrid that is comfortable for most new drivers.  It is also very forgiving, making it a good choice for neophyte players.
For irons, it comes with 4,5, 6, 7, 8, and nine all of which are made from stainless steel.  Its wood has a loft of 15 degrees, with a shaft made of pure graphite. The mallet putter will also give you enough confidence to improve your putting. And it has a stand bag with lots of pockets for your gear.
Of course, it still has its drawbacks. A common complaint is that the driver isn't the most durable and can break after a short time.
Men's Idea A12 Os Hybrid Irons
This is a set of 12 pieces of high-quality golf clubs for men. You will find the clubs not only good looking but also very durable. All clubs are of light construction to improve your swing speed. And the clubs boast of an innovative design for superior control and accuracy.
The irons have a low center of gravity and extra wide sole. The hybrids also have a nice feel to them.  The club set also has aerodynamic fairway woods and hybrids equipped with a patented Velocity Shot technology. Plus it has an extra-large capacity bag.
Wilson Men's 2015 Profile XLS Complete Package Golf Set
This is another golf club set for the inexperienced but eager to learn golfer.  It is right handed, with steel 5-SW irons, a putter, and hybrids. It's graphite wood flexes well for superior control. Also included in this set is a balanced precision driver, plus a carry bag with the seven-way padded compartment for storing and transporting all clubs.
The clubs in this set have handles with directional lines. You should be able to remember the proper grip when using those clubs. However, it is just disappointing that the hybrids and driver aren't that well-made with some reviewers on Amazon.com complaining that those clubs will easily get damaged.
 ADAMS Speedline Plus Package Set
This is an 11-piece club set that has everything you would need, from a driver shafted with graphite to fairway woods, putter, sand wedge, and steel-shafted irons. The club heads are aerodynamically designed for faster speed and improved performance.
The fairway woods, meanwhile, have a larger sweet spot compared to those of its competitors. You'd fare better during launch with these clubs. The hybrid of this package set has an ultra-thin crown for a lower center of gravity, and thus easier launch.  The steel shafted, forgiving irons are also very easy to hit. The putter had a classic shape and constructed with soft stainless steel.
However, some disappointed owners say the head of the driver isn't the sturdiest in this set.
Callaway Men's Strata Plus Complete Golf Club Set with Bag (18-Piece)
This isn't the most budget-friendly in this list, but it is highly recommended for newbies who want to be serious with their game.  It has a solid combination of clubs that are forgiving, durable, and well-made. I honestly feel that this is the best golf club set for beginners who are willing to spend and who have the competitive fire to be good at this sport.
There are lots of things to like about this club set. It has for giving 3 and 5-woods for long, high flying shots, as well as a titanium driver with an extra-large sweet spot.  And the set is packed in a lightweight but durable bag, with plenty of pockets and the holders.
This is indeed the best golf club set for the serious new golfer.
Confidence GOLF Men's POWER Hybrid Club Set & Stand Bag
This club set with stand bag is the extreme opposite of the Callaway Men's Strata Plus. It is very affordable and thus appeals to new golfers who are on a tight budget. But it should not be bought by golfers who are looking to improve their game by leaps and bounds because it is more of a starter kit for new golfers.
It comes with a 24-degree hybrid wood with steel shaft and cavity-backed irons which are all forgiving. It also has a pitching wedge and a steel-shafted putter. You also get a nice stand bag with lots of external pockets, auto-pop legs, and a rain cover.
Wilson Profile HL Complete Package Golf Set
This is a 15-piece golf club set that includes a driver, hybrid, fairway wood, putter, irons 5-SW, and head covers.
I believe that beginners will like this complete golf set with its numerous features. For one, the hybrid in this set will improve their shots because of its superior length. The rods are also designed for faster swing speeds. Plus, the rods are durable because they are made of graphite. Beginners will also have consistent swing using the clubs.
The driver is also getting a lot of positive reviews for being flexible, although some reviewers on Amazon.com say it may be very flexible for golfers looking for a firmer feel. The clubs overall have good weight distribution. Of course, it doesn't hurt that this complete package golf set is reasonably priced.
Intech Aspect XR 2/8 Men's Right-Hand Combo
This 14-piece set has graphite 4 and five hybrids that go along with 6,7, 8, and nine irons. There is also a pitching wedge, a putter, a graphite driver, and fairway wood. This set is ideal for beginners particularly its driver, which is characterized as being lightweight and easy to use. The hybrids are equally impressive, with a long shaft. All the clubs feel well balanced.

Then there's the bag with a six-way top that makes it a lot easier for you to organize your clubs.  It also has a large garment pocket, a spacious pocket for golf balls, and a mesh pocket for other essentials.

Final Verdict
For most new golfers, one of the very first investments they need to make is a set of golf clubs. You would need to own a golf club set if you want to improve your game. Investing in a good golf club set should make it a lot easier for you to master the various skills to be good at golf.

I highly recommend the above-mentioned golf clubs for beginners mentioned earlier. These are top rated golf club sets on Amazon.com. To pick the right club set for you, consider variables like your budget, the number of clubs you think you need, and your golf goals.


Tags: Best Golf Clubs for Beginners


Categorised in: Golf Clubs