Golf Ball Reviews-Top 5 In the Market for 2018
Last updated on August 21st, 2018 at 03:45 pm
The Best Golf Balls For the Green
Feel like hitting up the green? If you are, then you'll need a great golf ball for your golf game. Despite what you may have heard, the golf ball is one of the most crucial components of any golf game, so the last thing you want is a substandard ball. The best golf ball for your game will be based on your skill level, but the best golf ball reviews will tell you that there are still balls that any golfer should consider.
Golf Balls Comparison:
Video Reviews:

In this guide, we'll be taking a look at five golf balls; each will be great for a certain type of player. There'll be a ball for seniors, women, more advanced players, distance swingers, and a well-rounded ball as well.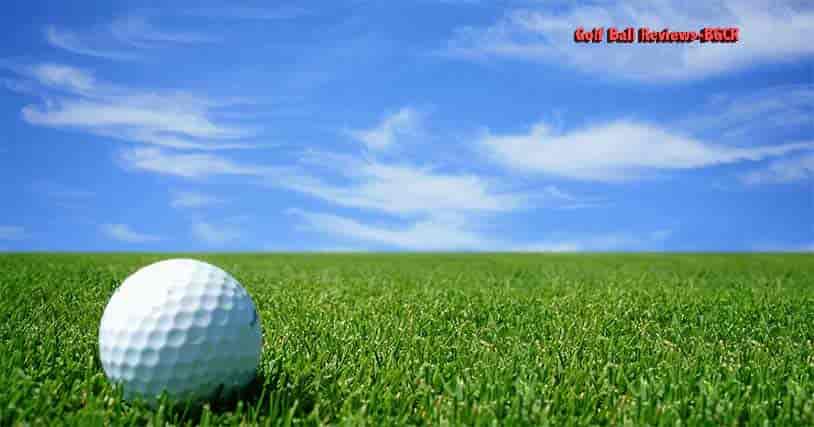 Things to Consider When You're Buying a Golf Ball
Before we get started on the reviews, let's take a look at some of the features of a golf ball that you should consider before you make a purchase.
Compression:
The way a ball is compressed will really change its flight. When you strike your golf ball, the point of impact will cause the shape of the ball to change drastically. This is because there is an energy transfer from the flat of the club to the surface of the ball itself. The level of compression in the ball will ensure that this transfer of energy is efficient, which will provide a much evener flight with a higher degree of distance and control.
Low compression balls will travel very far, but higher compression balls will travel farther when hit with a higher swing speed. Lower compression balls will typically have a compression number between 70 and 80, whereas higher compression balls typically have a number that's higher than 90.
Layers:
The way a golf ball is layered will directly affect how the ball will spin when struck. In the olden days, golf balls were comprised of coiled rubber bands. Today, there is a much more complex layering process that may use different materials for the best golf ball flight. Modern balls usually come in five varieties, one-piece, two-piece, three-piece, four-piece, and five-piece.
A good way to think of these golf ball layers is like this:
One-piece: These are for beginners. They have decent spin and travel, but not a lot of nuances.
Two-piece: These have moderate spin and a much more solid core. These fly straight and far.
Three and Four-piece: These are most commonly found on tour. Three-piece or even four-piece have a softer cover and a more solid core. These spin very fast and travel high and far. It takes a good level of skill to use these.
Five-piece: These are a newer type of golf ball that was first introduced about seven years ago. These have an even higher spin than three and four-piece balls and some players say they have more control as well.
Spin:
Spin is almost entirely controlled by the dimpling of the golf ball. Golf balls fly somewhat like airplanes; lift comes from the bottom of the ball as it spins and the top section controls how straight the ball goes. The dimple pattern decides exactly how the ball will spin; if it's spinning faster, the lift will be stronger and the ball will go higher. For a straighter shot, the dimples should inhibit the spin so that lift is reduced.
Golf Ball Reviews: Our Top Picks
Best Golf Ball for Well-Roundedness: Wilson Titanium Balls
Wilson is one of the top names in sporting goods and this golf ball in their Titanium series provides a very well-rounded golfing experience. These have surely coverings that are sturdy and won't provide too much rebound so that there is the extensive control on your swings.
Titanium ball isn't just the name of the line of golf balls; in fact, actual titanium is used in these balls so that the core materials are more sturdy and compressed. This degree of compression allows for an explosive shot; simply put, you'll get great energy transfer out of these balls. This material construction makes the Wilson Titanium golf balls excellent for just about any type of swing.
These golf balls will travel far and will also experience good lift, which is why they are some of the better well-rounded balls on the market today. Additionally, you get a full 18 balls with this pack, which is perfect for a season full of golf. As a result, these golf balls provide a lot of bang for your buck.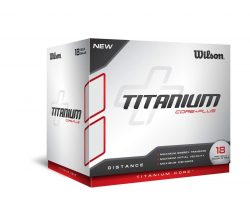 Pros
• These are some of the best balls for beginners.
• They fly far and have a good amount of lift.
• They roll very fast, which can be useful on the green.
• They are very inexpensive.
Cons
• These are very small golf balls.
• They only come in white, which makes them poor for golfing in the winter.
• These aren't premium balls.
Best Golf Ball for Seniors: Callaway Supersoft Golf Balls
There's a reason why the Calaway Supersoft balls are considered to be some of the best low power/high distance balls in every Callaway Supersoft golf ball review. These are designed to go far; they have very low spin so that you can get to the green every time.
Additionally, any golfer could tell you that when a ball is softer, it'll travel further on the swing. This is because the super soft exterior provides a lot of extra swing rebound. Additionally, these also have a very low compression so that you'll get extra yardage on the course.
As a result of their unique design, these aren't bad golf balls for those that don't have a lot of power or swing speed. Effectively, if you're an older golfer, you should give them a try since they are designed to provide distance without the need for a lot of power.
That being said, in a power swinger's hands, these really perform well for overall distance; just don't hit too hard on the green.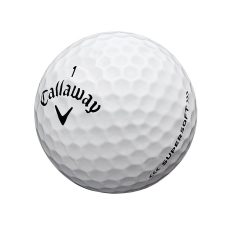 Pros
• If you're looking for distance, these really perform well for just about any golfer.
• If you tend to play in the winter, these come in several eye-catching colors, including, yellow, multicolored, and even pink.
• These provide a very straight shot due to the usage of hex aerodynamics. There's not a lot of lift on these.
Cons
• These don't perform well on the green due to their distance features.
• These are somewhat hard to hit out of the rough.
Best Golf Ball for Women: Callaway Solaire Golf Balls
The Solaire series of golf products from Callaway has always been aimed at women golfers. The golf balls in the product line have a great construction that allows for them to be struck for great distances without the need for a lot of strength or swing speed.
In fact, these have a very soft feel off of the club that ensures that there'll also be a lot of control in the stroke. These golf balls are designed for straighter shots, which can be perfect for women golfers looking for the best golf experience on the course.
While the spring and rebound are strong with these Solaire balls, this isn't a Callaway Supersoft golf ball review; these balls have a little less rebound than those senior-oriented golf balls. That being said, there's not a huge amount of impact on the club due to a lower compression inside the ball itself.
The dimples on the balls are also hexagonal and somewhat inhibit lift. This means that on the shot, the ball will fly somewhat straight and far because of the reduced spin.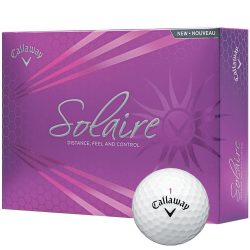 Pros
• These come in a brilliant pink coloration that would work well on a winter course.
• These golf balls fly fast and straight.
• They have a good, soft bounce off of the club.
• They don't require a lot of strength to hit them far into the distance.
Cons
• The pearlescent pink isn't for everyone.
• These don't perform well on the green.
Best Golf Ball for Advanced Players: Callaway Golf Chrome Soft Golf Balls
For more advanced players, the short game control is very important. These Callaway balls maximize this so that the player can maximize their course performance. Originally, the 2016 version of Callaway's golf balls were met with a bit of nervousness. Pro golfers like a bit of softness, but too much softness will decrease the springiness of the Chrome line.
Fortunately, these golf balls react well to the swing and have just enough firmness to really create some of the best rebound and distance. Previous versions of this ball had a three-piece construction. The latest version of this golf ball has a four-piece construction that is best used by those that have played golf for a number of years; in fact, it's this type of ball that is very well-represented on tour.
The ball itself is low compression and has 344 dimples. This combination provides a good amount of lift and overall distance, which is great for golfers that are seeking more control on the course. In fact, for those golfers that use a slower swing speed for a more controlled launch, these may be perfect.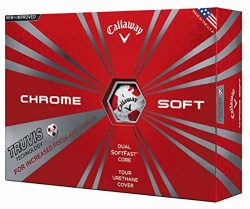 Pros
• These have a very stable flight due to the HEX dimpling system.
• These come in a yellow neon version so that they are easy to locate in the dark or on a snowy course.
• These feel nice and soft off of the club.
• These are some of the easiest to control golf balls for advanced players.
Cons
• They take some getting used to.
• If you have a fast swing, then these may not be good for your golf game.
• Beginners and intermediate players will have issues using these properly.
Best Golf Ball for Distance: Titleist Pro V1 Golf Balls
These are the golf balls that are frequently used by pros while they are on tour. In fact, these golf balls have been the most preferred in the sport for more than a decade. These are great balls for distance because they have one of the best penetrating trajectories in the sport.
Another aspect that makes them fly further is their soft construction; these golf balls simply have a high rebound and the ability to harden during a shot for more overall distance. Additionally, there is a good amount of height on the Titleist Pro V1; this is because the dimpling pattern allows the lift to really provide a high trajectory for the ball.
The cover is crafted of urethane elastomer; this is why the ball has such a soft hit and landing. It has 328 tetrahedral dimples that really give the Pro V1 a unique flight.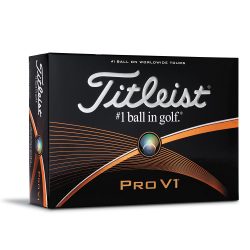 Pros
• Every shot feels very soft.
• This ball lands softly on the green.
• It has a unique feel to it.
• This is the best golf ball for achieving good height and distance.
• This ball provides some of the best greenside control of any golf ball.
Cons
• The Titleist Pro V1 is one of the most expensive golf balls in the industry.
• Mastering its distance capabilities takes practice.
• It only comes in white.
Final Thoughts:
Golfing is a sport that many people are taking up in order to get exercise and enjoy the great outdoors. For the best golf game, you'll have to do some due diligence in order to find the best ball for your skill level and stroke style. The products that we have featured in our golf ball reviews have a lot of great features that will work for various types of golfers.
It's important to find the right golf ball for your game; you'll find that it really will help bring more entertainment to the sport for you. If you're a more senior player, then shoot for something that needs less swing strength and speed. On the other hand, if you are a more advanced player, then control is certainly your best stat. In any situation, happy golfing!
Categorised in: Goll Ball