The Best Golf Push Cart Seats for Relaxing on the Green
Last updated on January 12th, 2018 at 11:07 am
Imagine that you planned a golfing trip with some friends who moved out of town recently. You haven't golfed for years, but your old golfing buddies will be around, and there was no way that they are leaving without you getting in a round of golf together. Your old pushcart has seen its day, so you decide to get a new one.
One of your buddies at the country club was recently bragging about his new push cart because it has a seat that allows him to relax between holes. You don't walk as much as you use to, which has you afraid of getting tired during this trip. What do you do? Purchase a golf push cart with a seat, of course.
Best Golf Push Cart Seats Comparison:
This guide is designed to help you find the best golf push cart seats for your needs. We will look at three seats that you can purchase without the cart that you can attach yourself and a few that come already attached to a golf push cart. Before we get started, let's take a look at some of the benefits of having a seat on the course and a few of the features that you want to consider before making a purchase.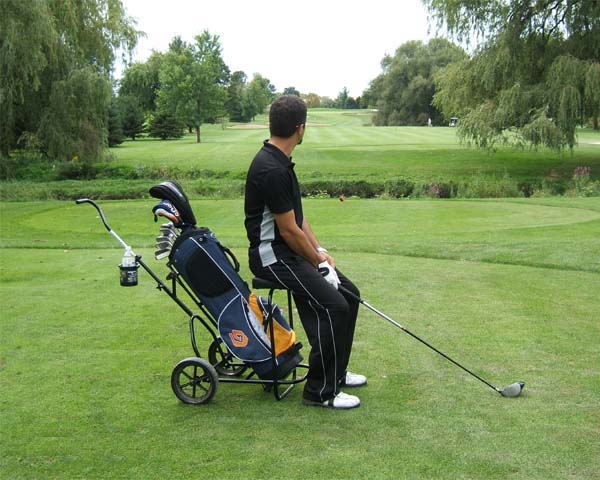 Why Get a Push Cart Golf Seat?
You already decided years ago that having a push cart was the best way to get your golfing equipment from hole to hole. You are not as young as you used to be though, so you do get tired at times. You don't want to use a golf cart that you drive because you have already become accustomed to using a push cart.
To make sure that you do not overdo it on the course, you need a place to sit down and relax. You could sit in the sun, but having a golf push cart gives you the freedom to sit whenever you need. In fact, you can get a push cart with an umbrella to shade you from the sun. You can store a few drinks in the push cart to keep you hydrated, and you will feel refreshed for each hole.
In addition to all of these things, you will be able to maintain your caddy free playing style. It may not seem like a big deal to some, but being able to play a round of golf without someone following you from hole to hole is great. In addition, if something like a ball or a putter goes missing, you have no one to blame but yourself. That being said, you should always know where your golf equipment is.
Features to Consider Before Making a Purchase Best Golf Push Cart Seats
As with any purchase that you make, there are going to be a few considerations that you want to think about before deciding which push cart seat you want to purchase. The first and most important thing that you should consider is the compatibility of the seat that you are looking to purchase.
Not all seats are sold with a push cart, so if you are purchasing the seat by itself, then you need to make sure that it can be attached to the golf push cart that you plan to use on the green. Typically, the best way to do this is to look for a seat that is the same brand as your push cart.
What are other features important to consider for Best Golf Push Cart Seats?
Size – You want a seat that you can sit on and be comfortable, which means that you need a seat that is large enough for you to sit comfortably on. You do not want a small bicycle seat that will make you feel like you are sitting on a rock. You need a large seat that has an ergonomic design that you could sit on for hours.
Cushion – Padding is going to be another aspect that determines how long you will be able to comfortably sit on a golf push cart seat, so make sure that the cover on the seat has an adequate amount of padding for you to enjoy. Don't forget that the cover can be replaced if you cannot find the cushion thickness that you want.
Portability – When you add a seat to a golf push cart, it adds weight to it as well. This may not be an issue while you are golfing because you keep it on the ground, but if you add too much weight, pushing it uphill may become more difficult. In addition, don't forget that you will need to fold up your golf push cart to take it to the golf course and back home, so if this cannot be done with the seat attached, make sure that you get one that is easy to remove.
Golf Push Cart Seat Reviews- Top 3 In the Market
1) The Best Push Cart Seat for Travel: Clicgear Push Cart Seat
The Clicgear Seat review is going to be the first one in this guide because it is our top pick. It is a great seat for anyone who owns or is thinking of purchasing a Clicgear push cart. It is made from a durable plastic material that is designed to accommodate a weight of up to 220 pounds.
Comfort
When it comes to comfort, this is not the most relaxing seat that you will find, but it is great for a quick place to relax between holes. The seat is designed with a single connection point, so if you shift while you are on the seat, you will notice that it has a little bit of a wobble. In addition, the padding on the seat is a bit thin.
Assembly
This seat does require a bit of assembly. There is a bracket that you need to mount onto your golf cart. This makes it easy to remove the seat and fold down your cart whenever you are transporting it in your vehicle.
Pros
This seat has a very durable construction.
The seat snaps on and off of the cart with ease.
The seat is very lightweight, which is perfect for mobility.
Cons
The seat could be a little more comfortable.
The seat wobbles a bit.
2) The Best Push Cart Seat for Comfort: Bag Boy Golf Cart Seat
For those that are fans of Bag Boy's line of golf carts, this cart seat will provide the best support and comfort while you're out on the links. It has a good system for supporting golfers of various weights so that they can have an entertaining and relaxing time out on the course.
Comfort
When it comes to comfort, this Bag Boy product is clearly designed with the course in mind. The seat has a thick layer of cushioning so that it delivers maximum comfort. A spring-loaded leg pushes down onto the green and provides a good amount of support for most body types.
Assembly
Simplicity is one of the design features of this Bag Boy product. It doesn't take much at all to fully assembled; all you have to do is remove the wheel and attach the included screws. Additionally, this product will fit most Bag Boy carts with little effort.
Pros
It has a very easy setup process.
There's a good amount of support.
At seven pounds, it's pretty lightweight.
Cons
It's only really for Bag Boy carts.
It doesn't fit the Bag Boy Quad Cart.
3) The Best Push Cart Seat for Ergonomic Support: Founders Club Swerve 360 Seat
For those that have used the Founders Club Swerve 360, you know that this cart has a very foldable design that makes it easy to transport. This is why this add-on is great for this product; it folds well with the cart and is lightweight enough to barely be noticed. One of the more interesting features of this add-on is its storage box that rests right beneath the seat cushion. In addition to the 360, this will also work for the 3.5 cart as well.
Comfort
When it comes to comfort, this seat add-on has a relatively thick padding in the seat area that allows you to rest comfortably between holes. The seat has a saddle-style shaping so that it feels fairly ergonomic when you're resting on it.
Assembly
Assembly is relatively simple; Swerve has included all of the hardware that you need in order to install this seat add-on to your Founders Club Swerve 360. In fact, the product was designed to detach and reattach to your 360 with relative ease.
Pros
This is an easy to attach and detach device.
It has some good weight support.
The cushion is very comfortable.
Cons
The saddle-style cushion isn't for every body type.
Additional Reviews for Golf Push Carts with Seating Worth Considering
1) The Best Golf Push Cart with Seating for a Beginner: Tangkula Swivel 3 Wheel Push Pull Cart Golf Trolley with Seat
The Tangkula Swivel is a product that's actually a golf cart with a built-in seating option. The cart itself is very easy to carry and the seat that's included is also very easy to manage, even when you're carrying the whole cart from place to place. When you're sitting on it, the stool's base touches the ground so that you'll feel well-supported.
Comfort
One of the best features of the seating on this device is its adjustability. With the adjustable design, you can raise or lower the stool so that you can rest on it more comfortably. When you don't need the seat, you can even remove it fairly easily so that you can cut a bit of weight from the cart itself.
Assembly
Since the cart itself has the ability to fold, it's important for the seat itself to be easily folded with it. This stool component doesn't assemble to the product like other golf seats, but it does fold up neatly and easily.
Pros
Since it contacts the ground, this seat can support a lot of weight.
It folds up neatly with the trolley.
The cushion is bicycle-style, which makes it comfortable to sit on.
Cons
The base of the stool is a bit too close to the rear wheel.
2) The Best Golf Push Cart with Seating for Extra Storage: Spider 3 Wheel Golf Cart with Seat
This Spider golf cart is a three-wheeled device that is designed with a seat that will make your tour of the course more relaxing. Even with the seat attached, this golf push cart is easy to maneuver from hole to hole.
Comfort
Insofar as comfort is concerned, the seat is wide so that you have plenty of space. The seat is also padded, which makes it even more comfortable to sit on. Below that padded cushion, there is additional storage space for your balls and tees as well.
Assembly
There is a bracket that attaches the seat to the base of the actual cart. It is not difficult to install, in fact, it will only take a few minutes. The best part is that once the bracket is installed, you can snap the seat of easily so that you can store it in your vehicle.
Pros
This unit is very sturdy.
The seat comes with additional storage space.
The seat of the cart is very comfortable.
Cons
The assembly instructions are difficult to follow.
The seat only has one connection point to the cart.
Final Thoughts
I hope that you enjoyed our golf push cart seat reviews in this guide. I understand that having good equipment is part of what makes golf so enjoyable, so I hope that this guide has helped you find a golf push cart seat that you can enjoy for years. The next time your golf buddies come to town, you will have a comfortable place to relax as you wait for them to take their swing.
Categorised in: Golf Accessories