Clicgear Sand Bottle
Product Name:
Clicgear Sand Bottle
Brand:
Clicgear
Rating:
ASIN (Product Code):
B002GYE2KC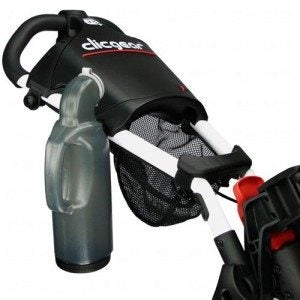 Clicgear Sand Bottle
Last updated on December 13th, 2019 at 10:01 pm
Clicgear Sand Bottle Reviews
Clicgear Sand Bottle Features:
Clips to the handle of most brands of 3-wheel push carts
Clip mount included
No screws, no holes and not hardware needed
Fits all golf carts with 1-Inch handle tubing
Clicgear Sand Jar Description
Fill that divot! Durable plastic with molded handle and snap open lid, make filling divots an easy task. Mounts to the most brand of golf carts (1-Inch tubing required). Mounting clip included. No drilling or hardware required.
Clicgear Sand Bottle – An Essential Accessory
The Clicgear Sand jar has one purpose, and that is to help you fill up your divots with sand. This is something every golfer should do, and this powder bottle makes the task easier. Filling up those divots is not as easy it seems if your bottle isn't right, but this one fits the bill.
Features and Benefits
Almost all golf courses have a box of divot mix (sand combined with topsoil and sometimes seed) that you ought to fill with a sand bottle. This would, of course, be much easier if you have a quality sand bottles, and that's what you get with the Clicgear.
The Clicgear Sand jars are unscrewed at the bottom, and it's this innovation that makes the bottle quick to fill up.
There's also a rubber cap attached to the spout, so you don't have to be concerned about accidentally losing it. One of the worst things that can happen is if you accidentally tip the bottle over, and you're wasting all the sand. But since the rubber cap is attached that's not going to happen here.
This sand bottle is very easy to use, which is the way bottles should be. However, that's not always the case because other sand bottles don't have any safety features to prevent the sand from spilling like this one does, and it also helps that it is compatible with a lot of golf push carts, so you don't have to be concerned if it's going to fit on the accessory tab or not.
One of the nice things about the bottle's design is there is no hardware or screws to mess around with, and the clip is bundled with the bottle too. Since the bottle is solidly made it's going to last a long time as well.
Use on the Golf Course
These sand bottles are accessories used on golf push carts, and this one is no exception. The bottle clips on your Clicgear golf push cart's accessory tab so anytime you have to use the bottle, it's within easy reach.
Just hang the bottle on one of the tabs while you're playing, and when it's time to fold the push cart, just place the bottle on the tab closest to the hinge in the center. This keeps the bottle secure without getting in the way.
Clicgear has been manufacturing high-quality accessories for a long time, and this is clearly one of their best efforts yet. You can check this out on Amazon right now and get an idea of the price.
Also, keep in mind that Clicgear has a couple of other accessory tabs that you can screw into place. This is compatible with any golf push cart with a 1" tubing.

As far as durability goes, the Clicgear Sand jar lives up to the hype as it is well constructed and holds up nicely even when used on a regular basis. While there are cheaper models available, the price is well worth it, and it's going to serve you in the long term, so think of it as an investment.
The bottle serves its purpose well and makes the job of filling up easy. If you've got a 3 wheel golf push cart, the bottle fits in nicely. More importantly, there is enough space here for sand in an 18 hole game. The bottle fastens very tight, but that's not a bad thing especially if you clip on the cart and fold it.
Bottom line: replacing and repairing divots is the right thing to do, and it's imperative on the part of every golfer to do this as best as he/she could. One way to do that is to use this bottle simply as it makes the process much easier.
Pros
Durable
Easy to clip on your golf push cart
Easy to use
Can hold sufficient amounts of sand for a full 18 hole game
Cons
Some golfers might be long for a bigger capacity
Cheaper bottles are sold online, but this is durable
Conclusion
This is one nifty bottle that does exactly what it should. There's nothing fancy about it, but it's full featured and delivers insofar as helping you do your civic duties on the golf course is concerned. If you're after the best sand bottle without spending a fortune, then go to Amazon and buy the Clicgear Sand Bottles!
See Clicgear Sand Bottle in Amazon