The Best Remote Control Golf Carts for Your Money
Last updated on August 20th, 2018 at 09:00 pm
At Best Golf Cart Reviews, we rate and review many products like the best push-pull golf carts and the best golf bags, but both of these types of products can lead to a bit of course fatigue. One of the coolest new inventions for the golf course is remote controlled golf carts. These products will heft your golf bag and follow you as you play your rounds on the links. That being said, finding the best of these products can be daunting for any golfer. We created this guide so that you can find your way to your new electronic caddy. Here you can find Purchase Guide.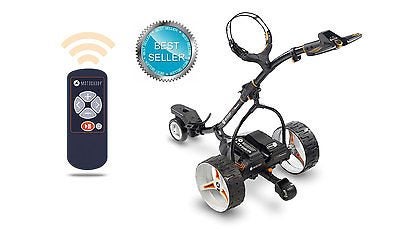 Comparison of remote control golf carts:
Video Review of Remote Control Golf Cart
Reviews for Remote Controlled Golf Carts
Welcome to the future! This product has one of the sleekest designs available and is definitely one of the best for pure control. It even boasts a Bluetooth follow technology that will lock onto your remote control so that the cart can follow you more easily. The cart will match your pace, stop when it needs to stop and has a good braking system for those situations when you need to play on an incline.
The whole cart is powered by a rechargeable lithium-ion battery that charges at a fairly fast rate. Also, with the included remote control, you can fine-tune the cart's movements. The remote will allow you to move forward, move sideways, and will allow the cart to reverse if need be. In a situation where the battery dies while you're still on the course, the cart can perform easily as a standard golf cart that you can push from hole to hole.
In addition to these features, the cart also has a place for scorecards, an umbrella holder, and also an option for an add-on beverage holder. When you're ready to go, you can quickly unfold the compact machine with the press of a single button. check more electric golf carts here.
Pros
The following function only requires you to press a single green button.
The X9 will automatically stop a few paces from you.
When you want it to stop, you can simply place the remote control on the device.
If you don't want to just let it follow, you can fully control it via the remote.
Cons
It is definitely a bit on the expensive side.
It would have been nice to have some of the same Bluetooth tech usable through a phone and app combo.
If you play on a particularly hilly course or are often in the rough, then this remote controlled lithium golf cart may just be what you're looking for. First, it has very large rear wheels; not only are these great for preventing the cart from tipping over, but they provide a kind of all-terrain functionality that makes this one of the best carts for the rough. In addition to this, the front wheel is also very terrain-friendly and each will keep free of dirt and debris.
Also, this product is very lightweight; at only about 26 pounds, it'll be easy to carry this device to the course from your car. On a charge, you can expect several hours of play; in fact, you should be able to play more than a full round of golf on a charge. The cart includes a beverage holder, a place for your scorecards, and it can manage just about any size of the golf bag.
When you're on the course, you can even adjust the pace of the cart via a dial, which makes this a good option for those that go slower.
Pros
It has some great terrain performance.
The wheels won't get excess dirt caught in the spokes.
It's lightweight enough to carry from place to place.
It can hold beverages.
Cons
It doesn't have a remote with Bluetooth functionality.
Bat-Caddy is one of the most well-known producers of remotely controlled golf carts and the X8R product is a great example of what a product of this type can be. The first thing that you might notice about this product is its attached seat. When you're waiting for your opponents' swings, it's great that this product from Bat-Caddy has a place for you to relax. Couple this with the umbrella and beverage holders, and you'll have a nice, comfortable place to relax between holes.
Additionally, this product also has an excellent motor. If you're going to play a lot, then you can rest assured that this product's battery will hold out for a full 36 holes. This means that you can play almost two full rounds of golf on a single charge. If you happen to run out of charge, this product also can be used "free wheel-style," which is useful, especially when you're on the later holes.
When it comes to overall functionality, the X8R comes with a remote control that has a good amount of range. It even includes a USB port and a "timed advance feature" so that you don't feel crowded when you're mid-swing.
Pros
It has great wheels for just about any terrain.
The seat is a nice feature.
You'll have all the holders that you need.
It's got a powerful motor.
Cons
For a simpler design, the X4R still has many of the key features that owners of the X8R have come to enjoy. This Bat-Cady product has holders for beverages, umbrellas, and it also has the big wheeled design that'll let you travel effortlessly through just about any terrain that you can find on a golf course. Its remote control has a bevy of functions and even includes an 80 to 120-yard range.
While it doesn't have the robust range of the X8R, this product does have a healthy overall range; in fact, you can expect the device to maintain a charge for 27 holes. While Bat-Caddy product can tip a bit, this particular cart can manage climbing inclines of 30 degrees, which is definitely respectable.
Also, this product does come with a complimentary seat, which will make those long games a bit more comfortable. The device itself is comprised primarily of aluminum, which means that it serves as both a lightweight and strong option for anyone looking for a good and travel-friendly remote control golf cart.
Pros
It folds down very compactly.
It has a holder for scorecards, umbrellas, and beverages.
The device can manage golf bags up to 77 pounds.
The battery life will last through six to eight hours of play.
Cons
They could have designed the holder for the umbrella a little better.
When you simply need a cart that can follow you as you play, this product from FTR is a great option. It has a strong frame that's made of aluminum, and it's relatively easy to heft because the device only weighs about 46 pounds. It also folds down very compactly; in fact, this may be one of the simplest to store options of the carts in this guide. This is also one of the best products for motor power; it has no issue with most course inclines and its robust all-terrain wheels will manage most course roughs.
When you need it to follow you, toggling it on is easy; simply press the button on its remote. Additionally, the cart doesn't follow right behind you; it actually will follow somewhat to left, which is great for helping you feel like you're not being crowded. The bag capacity will allow you to carry most golf bags of various sizes, so this device can really help during those longer games. While it's not phenomenal, the battery should last you for a full game of golf.
Overall, this is a versatile product that'll make golfing through most courses relatively simple.
Pros
The following mode is great and feels like you're using a traditional caddy.
It lasts for a fairly extensive time, especially considering the price point.
This cart folds down compactly.
Stopping it from following you is simple.
Cons
When traveling across hills or wet terrain, even the all-terrain wheels may struggle a bit.
Final Thoughts
When you want to save on fatigue, one of the five products that we've reviewed here will serve you well. Each one has a great capacity, some excellent remote controllability, and will work well on most course terrains. Each of these carts is also very reasonably priced for the convenience that they provide, so take a look at our guide and select the one that works best for your game.
Categorised in: Remote Controlled Golf Carts