Clicgear Model 8.0 Golf Cart
Product Name:
Clicgear Model 8.0 Golf Cart
Brand:
Clicgear
Rating:
ASIN (Product Code):
B00J8HVGPY
Price:
See Current Price In Amazon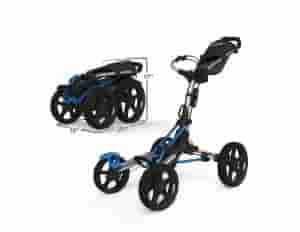 Check The Latest Price on Amazon!
Last updated on December 13th, 2019 at 09:55 pm
Clicgear Model 8.0 Golf Cart Review Thoroughly
Oversized aluminum tubing for unparalleled durability
Further enormous console with magnetically locking lid
Cup holder and umbrella holder included
Further large mesh storage internet
Adjustable bag saddle and bag straps
The Clicgear Model 8.0 Golf Cart – Worth the Money
The Clicgear Model 8.0 Golf Cart is a four-wheeler, and that alone makes it different from most other golf carts, but there's more to this than just the extra wheel, however. If you're in the market for a cart that can hold your large bag, this is one of the best options available as it's built for heavy-duty use.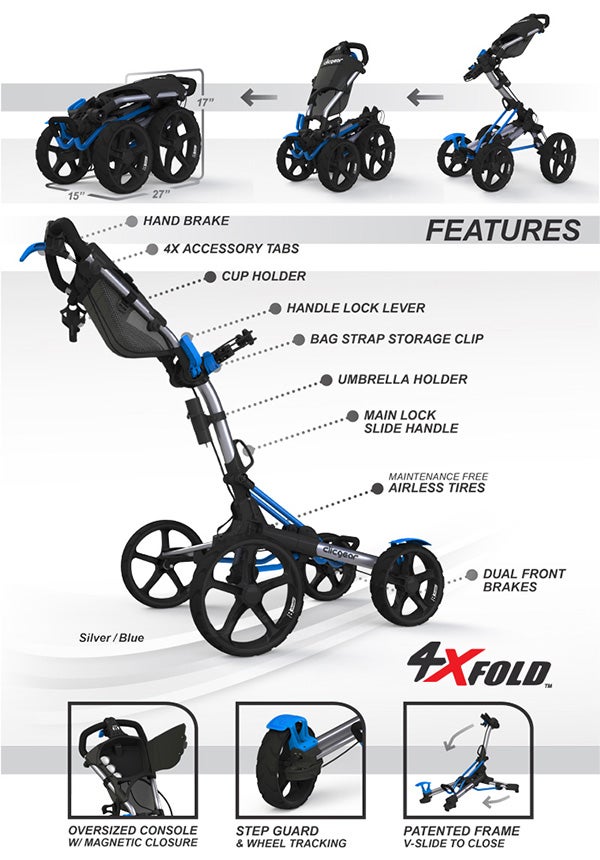 Overview of Features



Clicgear Model 8 took two years to make and judging from the finished product it's easy to see why this is the case: model 8 is laden with features that you won't find in other carts, period. It has a large console for your scorecard, tees and golf balls and other gear.
Moving on to the other features, there's a conveniently placed handbrake, half a dozen tabs for accessories (a couple is at the umbrella bracket's side, and the rest are on the handle) as well as a cup holder. Apart from the umbrella holder, the cart has airless tires (maintenance free), dual front brakes and a step guard for the front wheel.
The Model 8 is available in several colors including silver, white, matte blue, blue and silver and charcoal. As far as accessories go, Model 8 is not lacking as you can buy a cooler, seat, a shoe brush and other items for the cart. That there are a lot of accessories should not come as a surprise as Clicgear has always been known for these extras.
Folding Mechanism

When folded, the Clicgear Model 8.0 Golf Cart measures 17″ x 27″ x 15″, and thanks to the 4XFOLD technology, all four wheels fold in. The folding system is similar to those in models 2.0, 3.0 and 3.5., but implementation has been greatly simplified so even if you haven't tried any of their models before, learning the process is quick and easy. The addition of the step guard fender at the right front wheel keeps Model 8 from rolling when you're folding or unfolding it, a clever feature.
Clicgear Model 8.0 Golf Cart in Action



Model 8 rolls smoothly on golf courses, and it doesn't topple over even when you're going uphill and playing several rounds. It helps that the two front wheels have separate axles as it allows the cart to roll on different types of terrain. The wheels, by the way, are of the same high quality as other Clicgear carts and don't need any maintenance.
Clicgear is known for their high-quality golf accessories, and this is no exception, so check it out now on Amazon and get the latest price.
For Cart Bags

The Clicgear Model 8.0 Golf Cart is for cart bags only, and unlike those on other carts, your bag won't be left sitting rigidly upright as the angle is similar to the ones on the Clicgear three-wheel models. In other words, it won't look like you're pushing around a shopping cart while on the golf course.
Wheels and Brakes

The wheels have been upgraded too, and the most significant aspect of it is the front wheels move independently of one another, and you can fine-tune the movements if necessary. The wheels are something that we often take for granted, but the tweaks did here make a huge difference regarding smoothing out movement.
The brake is right on the front handle, and you just need to pull it up to turn the dual brakes on. Once both front wheels are locked in place, the cart won't be able to roll from its current spot. But since the back wheels are not locked you'll be able to maneuver Model 8 even when the brake is on. It should be stressed that the brake requires applying a bit of force, so it's all right to be a little firm when using it.
Pros
One of the most stable golf push carts available
Folding and unfolding is quick and easy
Very stylish
Rolling and handling are very convenient
Cons
The cargo net could have been deeper
Can only be used with cart bags
Conclusion
This is an outstanding golf cart, plain and simple. It's simple to use, stable, has an aggressive style and reliable functionality, so if that's what you're looking for then buy the Clicgear Model 8.0 Golf Cart now on Amazon!
See the Latest Price on Amazon