CaddyTek EZ-Fold 3 Wheel Golf Push Cart Review
Product Name:
CaddyTek EZ-Fold 3 Wheel Golf Push Cart
Brand:
CaddyTek
Rating:
ASIN (Product Code):
B00LA2SL3A
Color:
Silver
Weight:
8.3kg

Check The Price on Amazon!
Last updated on December 13th, 2019 at 09:59 pm
CaddyTek EZ-Fold 3 Wheel Golf Push Cart – Traveling the Links in Style
When you're heading out onto the links, you need a good push cart that can make the trip with you and provide you with the right level of convenience. Finding the right golf push cart takes a lot of due diligence because this is the product that you'll be using to reduce fatigue, perfect your golf game, and of course, store your clubs as you play. For this reason, the CaddyTek EZ-Fold 3-Wheel Golf Push Cart may be one of the best products produced in this category due to its wide array of useful features and its dependability.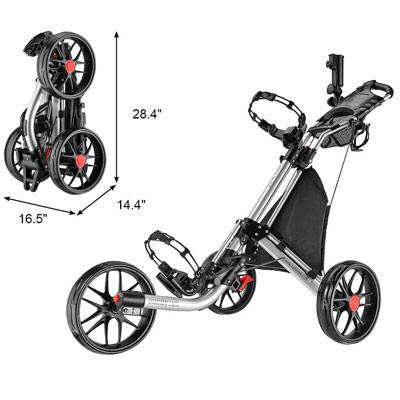 When you're seeking out a new golf push cart, it's easy to find products that just don't do the job well enough. Many products out there aren't comfortable to pull along with you, some don't have quality braking systems for when you're on a hill, and many have overcomplicated folding processes that make it a chore to pack up and unfold the cart. On top of this, some products on the market just aren't as strong and durable as they could be, which means that you may have to replace them over time.
With the CaddyTek EZ-Fold 3 Wheel Golf Push Cart, many of these issues are solved right out of the box. Not only is this a versatile cart, but it's made of aluminum, which means that it'll stand up to the weight of your gear, your golf clubs, and many other objects that you take along with you to the course. This is advantageous because aluminum is not just a very strong metal, but it's also very lightweight so that you can unload your gear and then fold and heft the cart with ease when it's time to pack up.
The aluminum frame is also coated in such a way as to protect the EZ Fold 3 from rain and abrasion. The frame is very ergonomic and is designed to deal with a wide variety of conditions that you might experience on the golf course. Also, not only are the wheels strong, but they are oversized so that you can effortlessly move over the rough and uneven terrain that you might end up facing as you move from hole to hole. The wheels are arranged in such a way as to provide complete stability when moving along the course; the rear wheels are wide set and the front provides a smooth operation while moving.
Simply put, the pack up process of the CaddyTek EZ-Fold 3 Wheel Golf Push Cart is very simple. When it's time to head home, you can simply press the button on the axle of the front wheel, turn that wheel opposite of its in-use position, and finally, press the button under the handle and push the handle downwards and the product will fold down to a very compact and easy to carry size.
Unfolding the cart is even easier; all you have to do is shake it downwards and it will start to expand. Once expanded, just press the axle button again and reverse the wheel 180 degrees.
If you golf frequently, then this CaddyTek EZ-Fold 3 may be the product for you because it simply makes the 18 holes much more convenient to traverse. It has locking wheels for hills and bunkers, it has a workhorse ability to heft some of the heaviest loads in its class, and it also packs in a cooler for refreshments. For my money, this product outshines just about every other product on the market due to its inherent versatility; it just makes the whole game of golf much easier.
Features:
CaddyTek EZ-Fold 3 Wheel Golf Push Cart the most important features which are added the values for buyers.
Patented One-Click button folds the cart in 2 simple steps to compact size(13.2″W x 12.4″L x 32.8″H)
Strong aluminum frame, weighs less than 18.5 lbs.
Patented press to brake, press again to release foot brake
Three 11.5″ x 2.6″ EVA maintenance-free wheels provide perfect balance and traction on all types of terrain
Patented basket with cooler build in, Mesh net on the handle, Umbrella holder and storage rack included patented One-Click button folds the cart in 2 simple steps to compact size(13.2
Description
CaddyTek has mastered push cart innovation by making it as convenient and straightforward as possible to fold and unfold the CaddyLite EZ. No more awkwardness on the course as you cart your clubs around the green. And smart features like the basket with built-in cooler, umbrella, scorecard and beverage holders fulfill the expectations that go along with a name like CaddyTek.
Intended for any players, they will be your ideal partner for all kinds of course.
It is the latest regarding design and simplicity.
It is simple, effective, not heavy, very durable and practical. Very durable and cheap. It folds and unfolds in seconds the first impression is that it must be unstoppable!! It is easy to fold (does not pinch your fingers).
For the transport of golf equipment, golf trolley is equipment that allows the golfer to reduce his effort significantly. The advantages of the golf cart are plentiful. No need for the golfer to get the tired pull or push. The cart throughout the game due to the wide size of the wheels. This can have a significant effect on its performance.
Similarly, this type of caddy is equipped with a lot of accessories that make it an even more autonomous trolley over a large part of the course. Therefore, the golfer is less concerned with the carriage and focuses more on his game.
Wheels with larger diameters are increasingly in demand. They are more robust and allow to walk the difficult terrain or hilly slopes. To pass the drains, it is best to inflate wheels at a half.
On a golf cart, the brakes are essential if you do not want your trolley rolling down a slope. Also, be aware that there are four types of braking devices: the mechanical brake, active engine brake, the engine brake liabilities and cruise control. The first is a simple and inexpensive device.
Although the maintenance of trucks appears reduced, it still should clean the wheels after each use.
Pros:
– The body of this product is made of lightweight aluminum.
– Folds into a flat and compact shape
-It has a two-step folding system.
– Easy to fold and unfold
– The wheels lock securely.
– It has one of the highest capacities for a golf cart.
– Easy to clean
– Cheap
Cons:
– It can unfold when closed if you set it down wrong.
– The large spokes can pick up debris.
– Limited storage space
– The bag can slip down and make it hard to push the cart.
– Awkward foot brake
No locking mechanism to keep the cart in folded-up posit
The Latest Price on Amazon!