Comparison of the Best Golf Cart Lift Kits: Amazing Buying Guide
Last updated on August 21st, 2018 at 04:16 pm
Buying a golf cart lift kits has never been more convenient, and these are indispensable if you use the vehicle a lot. With the cost of these kits going down, it's easier than ever to get maximum performance from your cart, and rather than buy a new one it's better just to tweak a few settings here and there to get the most from your cart.
Top Four golf cart lift kits Comparison Chart
The Best & Cheap Golf Cart Lift Kits Reviews Online
All manufacturers will tell you their kit is the most complete and comprehensive, but you don't have to take their word for it, as we have compiled the best kits available. The following have different features and specs, but what they all share in common is ease of use and enhancing the function of your cart.
1). Madjax 6″ 2004-14 A-Arm Lift Complete Kit for Club Car Precedent Gas or Electric Golf Carts
The Madjax kit was designed from the ground up to be easy to use and is meant for DIY enthusiasts. The components have a straightforward configuration and will give your golf cart a beautiful, rugged look that isn't present in other lift kits. This unit comes with the 6-inch size, but 3 and 5-inch options are available too.
What's more, the kit has a complete set of instructions that are easy to follow, even for someone who has never used these before.
Quality wise the Madjax is as good as advertised, with the each part doing what it's supposed to do. If you have ever used this type of kit on your RV or motorcycle, the process is pretty much straightforward. Armed with jack stands and a few basic mechanical tools you'll be ready. Installation should not take long and once complete you don't have to worry about anything coming apart.
2). EZGO TXT Electric Golf Cart 2001-Newer 6″ Lift Kit
This lift kit includes four sets of chrome lug nuts and four sets of chrome center caps, and there is no welding or cutting necessary. As the advertisement for this ad shows, this kit was built specifically to give your cart a rugged loop.
This lift and wheel tire combination give your vehicle a lift of up to 6 inches, and the additional height applies to both front and back.
This doesn't just make your cart look cooler, but it's also practical. if your golf cart is always getting stuck on rocky or hard terrain, the extra ground clearance provided by the EZ Go is going to make your life easier. And since the kit doesn't require any welding, installation is much simpler.
The electronic golf cart kit also comes with specially designed aluminum rims, and with their center caps and lug nuts, fit nicely with the new Wanda tires. These new tires are durable and also keep noise to a minimum as well.
3). EZGO 74851G01 Heavy Duty Leaf Spring
This kit is for the 1995-2000 E-Z-GO electric and gas Shuttle Series, and it is set between the axle housing and the cart's frame, allowing it to lift the load. With a total weight of 33 lbs., the EZ Go Leaf Spring Kit includes all the components necessary to replace the standard leaf springs on the electric and gas Shuttle Series.
EZ Go is known for their wide range of quality golf related products, and this is one of them.
This particular kit is for you if you want a cart for heavy duty off road use, and it's versatile enough to be used on vehicles where extra weight has to be added.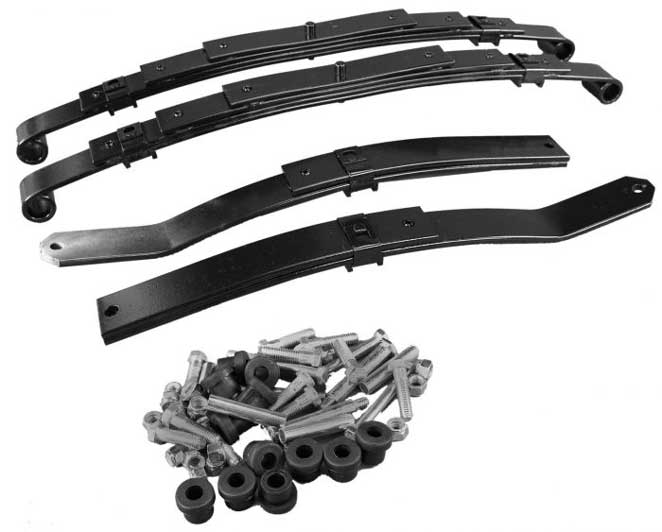 If you're adding a seat kit to your cart, this is a must-have. One of the problems with the regular spring seat is they are too soft, and if you're going to bring 4 to 5 people along this kit will be necessary.
4). Golf Cart Lift Kit 6" A-Arm will fit Yamaha Drive Golf Carts
This golf cart kit from Madjax has been constructed for all traditional Yamaha vehicles, and once installed increases suspension travel. That might not seem like much, but if you've ever tried driving a cart on rugged terrain with regular suspension, you will realize just how important suspension is.
you will realize just how important suspension is. What this lift kit does is let the camber and toe front end align properly.
The components of the kit have robust urethane bushings, and the fittings are greased for simple, straightforward maintenance. The kit also comes with front shocks and provides clearance up to 23" tires.
The trim fits perfectly with most golf carts as well,
so you don't have to do any trim cutting to keep the tires from rubbing.
Putting the components in place is also a straightforward process thanks to the clear instructions,
So if you're looking for an easy to use lift kit, this is it.
5). Club Car DS Golf Kit 12″ Wheel and Tire Combo
The Club Car DS is a complete tire and wheel combo, and it comes with all the equipment necessary for a lift kit. With the Club DS kit, you're assured of a complete bolt on installation. This is a spindle designed kit for off-set wheels and lifting, so when installed gives your cart a higher and wider stance. This doesn't just make your cart look better, but it also enhances safety when you make turns.
The kit includes a high-end bolt on lift kit, 16 chrome lug nuts, 4 center caps and another 4 tire and wheel combinations. This kit fits the Electric 84-03.5 and the Gas 94-03.5 Club Car DS models. Furthermore,
the components are compatible with all carts that have aluminum front dust covers.
In other words, you don't have to worry about lifting your vehicle, because this kit makes it easy to do, and it's affordable too.
because this kit makes it easy to do, and it's affordable too.
Things to Consider Before Buying your golf Cart lift kits
A golf cart lift kit can serve a lot of purposes, but they are mainly for providing your vehicle with greater ground clearance and making it stand out from the rest of the pack. The majority of lift kits were originally designed for motorcycles, ATVs and SUVs, but as you can see,
there are now lift kits for carts as well.
But they are mainly for providing your vehicle with greater ground clearance and making it stand out from the rest of the pack.
The majority of lift kits were originally designed for motorcycles, ATVs and SUVs, but as you can see, there are now lift kits for carts as well.
First off you need to understand what these lift kits are supposed to do:
A lift kit is a system that is used to raise the cart higher off the road. This is done by lifting the entire cart body or raising the suspension.
Regardless of the method, the kit gives the vehicle a higher profile. This also moves the wheel above the ground, giving you the opportunity to install larger tires on the cart.
There are different types of golf lift kits, with the following applicable not just to carts but
also cars, trucks, motorcycles and ATVs.
Suspension: these kits replace your cart's front and rear leaf springs, raising the suspension and generating more clearance for the cart. this type of kits give anywhere from 4 to 6 inches of clearance and improve handling.This kits usually include a lower skid plate, sway bar drop brackets, CV spacers, differential drop brackets, upper strut spacers, front and rear cross members and lifted knuckles.
Body: body lift kits lift up your cart by 1 to 3 inches by raising the body off the chassis. Under this setup, the wheel is raised as well. Body kits are less expensive than suspension kits, but the ground clearance isn't as high. These units usually have the installation hardware, ground strap bracket, front & rear bumper brackets and body spacers included.
Leveling: Leveling kits are much simpler and come with the hardware necessary for the installation such as lower strut mount extensions.
There are a few other things you need to consider: one of them is the physics involve. The higher your cart is, the higher the center of gravity. As has been pointed out earlier,
increasing the ground clearance of a golf cart helps you navigate rugged hills and courses. However, raising it too much could make the vehicle difficult to turn.
If you're going to raise your golf car by more than six inches,
you should add a stabilizer to prevent the cart from shifting too much in one corner during turns.
Just as important is the compatibility:
in the reviews above you will notice that the kits work with specific brands and models,
So make certain the kit you purchase with your golf cart.
Last but not the least you have to consider the budget. One of the reasons you're raising the vehicle in the first place is to install bigger tires,
so factor that in the budget.
The Final Verdict
Buying a lift kit is not as simple as going online and ordering the cheapest kit you see. You have to make sure the equipment is appropriate for golf carts.By using the tips above or purchasing any of the products listed above, you can rest easy knowing you got the best kit for your golf cart. you may check best push golf carts 
Installing a lift kit on a Yamaha Golf Cart


Tags: golf cart accessories, golf cart lift kit club car, golf cart lift kit yamaha.


Categorised in: Golf Accessories